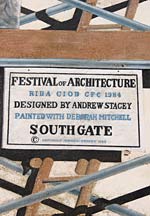 This enigmatic mural is situated in Holloway Street on the end wall of the Backpackers Hostel. It was painted by Andrew Stacey and Deborah Mitchell, for the Festival of Architecture in 1977. However, it was not painted until 1985.
A headline on the newspaper, that the worker on the right is reading, alludes to a drought hitting the South West in the summer of 1977. The mural was looking a little tired and the City Council had Andrew Stacey freshen it up in 2009.
Andrew Stacey is still producing public artworks around the country with both indoor and outdoor commissions. He has completed work at Dawlish Hospital, 1999, and Newton Abbot Hospital in 1998.