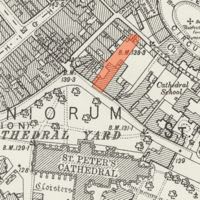 This building in Cathedral Close, in an early Georgian style, can trace its origins back to the Annuellars College that stretched from Mols at 1 Cathedral Close to 5 Cathedral Close. The Annuellars were minor clergy who performed the daily masses commemorating the wealthy patrons of the cathedral. The college was constructed about 1528 to house eighteen members. The Annuellars were disbanded at the Reformation, when the building was divided up into tenements.
The present structure at No., 5, dates from 1729 when the site was purchased by Francis Drewe, who built himself a town house fit for a gentleman. He practiced as a barrister in Exeter, before being voted unopposed to Parliament as a Tory. He represented the city between 1713 and his death in 1734.
The building is a two storey structure of red brick with light grey stone quoins. The upper storey has five sash windows, each in a moulded architrave of matching stone. There are four similar windows on the ground floor, while the arched entrance is beneath the fifth top window. Along the front runs an iron railing. The whole is surmounted with a bracketed cornice, under a grey slate roof, with three small, gabled dormers. The interior of the house includes two fine late C17 panelled rooms, one with a contemporary fireplace. Through the arch on the left ia a small courtyard. leading to a rear range thought be a refectory or medieval hall, surviving from the Annuellars College. The hall has a barrel vault with moulded timber ribs. In the room beneath, is an oak screen, and a vertical stone fireplace, adorned with angel corbels, flecked with medieval paint.
A tailor and habit maker Mr C B Presswell occupied the building in 1850. The Dean and Chapter leased the building to Charlotte Treadwin, in 1867, for her Honiton lace business, which included workshops and a showroom. Treadwin was a favourite of Queen Victoria, who purchased several pieces of her lace, and granted her the Royal Warrant. After Treadwin's death in 1890, Miss Herbert continued the business until her death in 1929.
From the 1930 to the 1960s, Murray's, an antique dealer traded from the building. Tucker and Hilton occupied offices in the building in the 1930s. Another antique dealer, Morland-Coon occupied the front premises in 1972, while the Exeter Town and Club occupied the upper hall from 1970, moving from Southernhay House, and sharing the building with Midas Construction and Peter Wadham Antiques in 1988. The Church Commissioners sold the building in the 1990s, and after an archaeological investigation, it was restored and repaired to become a restaurant in 1998. This building is currently a popular pizza restaurant called Ask.
Sources: Exeter Timetrail and various trade directories. British Newspaper Archive.