In the 19th-century there were four brickworks in the Newtown area. The Workhouse Works was one such, and was situated on the Clifton Hill Sports Centre site.
The area was used as an athletic running track during the 1970's, before the Exeter Arena was opened -  the 60 metre long dry ski slope was also open during the 1970's.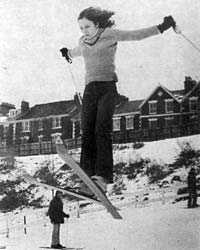 The sports centre was built in 1984 and officially opened in 1985 by the Duchess of Kent. An industrial design with 'porthole' style windows, it offers a sports hall, a dance studio, fitness suits, badmington and squash courts and soft play areas and a bar to undo all the good work.
Behind the centre, on the old brickworks quarry is the ski slope and a golf driving range. The blizzard of 1978 improved the ski slope as the photo testifies.
Photo Western Times