Join the Exeter Memories
Group Page
The Great Gorilla Trail in Exeter - 2013
Page added 7th October 2013
Back to Public Art
The 2013 Paignton Zoo Great Gorilla Trail was a trail of 30 life size cast gorillas. They were decorated by artists, and then placed in sites in Exeter and Torbay. The project was a collaboration of Babbacombe Model Village on its 50th Birthday, and Paignton Zoo on its 90th Birthday. Exeter hosted 11 gorillas, and a further 5 that were decorated by local schools. It was intended that the figures would be auctioned for charity, at the end of the project.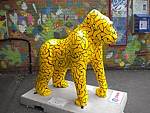 Bananarilla
Sponsored by Stagecoach, this gorilla was situated in Exeter Bus Station, Paris Street. It was created by Miss *C.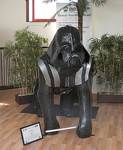 Darth Vader
Sponsored by Cavanna Homes, Darth Vader was created by Mandii Pope. His head has been re-shaped to look like he is wearing the Darth Vader helmet and tunic, the only one to differ from the basic gorilla design. It was situated in the Harlequins Shopping Centre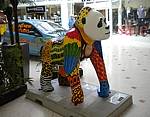 Miss Prints
Sponsored by the Harlequins Shopping Centre, this gorilla was created by Penny Robson. It was situated in the central atrium of the centre.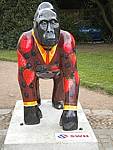 Mr Bumble
Sponsored by Frobisher Juices, he was created by Nathan Smith. In keeping with the sponsors trade, the design incorporates strawberries, plumbs and other fruit.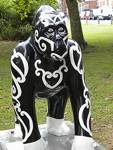 Not So Different
Sponsored by Cathedral Financial Management Ltd, he was created by Danny Kidd. Located on Southernhay Green.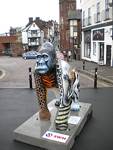 Skins
Sponsored bythe ATASS Group, this gorilla was located in WEst Street, close to the bottom of Stepcote Hill. The House that Moved is in the background. He was created by Jessica Miller and features skin patterns and shapes from African animals.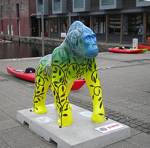 Sora
Sponsored by Exeter College, Sora was located at Piazza Terracina, close to the canal basin. He was created by Jessie Cheng and Harry Downward.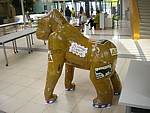 Takamanda
Sponsored by the University of Exeter, he was located in the forum at the University campus. Designed by Meriel Royal and created by Jelly. His paint finish represents brown paper and travel labels.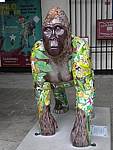 Ubuntu
Sponsored by the Guildhall Shopping Centre, he was located at the shopping centre. The artists were Lucy Rockliffeand Jess Carvill.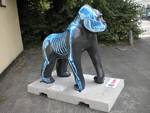 X-Ray Ape
Sponsored by Paignton Zoo, it was located near the Clocktower, in Queen Street. Artists Dave Ellacott and Sue Misselbrook.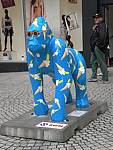 Cool Ice Cream Bananas
Sponsored by the Princesshay Shopping Centre. It was located in Roman Walk. Artists Malcolm Law.
│ Top of Page │