Join the Exeter Memories
Group Page
Portraits of Exeter Folk and Friends
Page updated 3rd August 2016
These photos of Exeter Folk were sent in from people all across the UK and from abroad. Why not send a photo from a previous era of your family, for inclusion on the page? Photographs of your family from Victorian portraits to wartime weddings, military uniformed grandfathers from the wars of the 20th Century, flower power hippies and mods and rockers are all welcome - help to paint a picture of those who have lived and worked in this city of ours.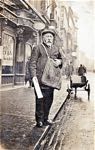 William Morgan
Photographed in 1910 outside the Express and Echo Office at 226 High Street, of William Morgan selling newspapers. Photo courtesy of Dennis Berry.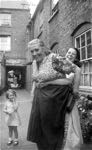 Alice Cooper
Alice Cooper photographed with family members outside Browns Court. The court was behind Boots in Cowick Street. Parts of the tenement buildings dated back the 17th Century. Photo courtsey of Ken Brown.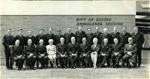 City of Exeter Ambulance Service
From left to right top row–Dave Chaney, Tery King, John Hill, Charlie Thomas, Tom Gayton, Roy Willmot, Fred Vaughen, Harold Christopher, Ron Brewer, Bill Alford, Bob Western, Frank Borham, Burt Ellicott, Peter Ramsden. Bottom Row–George Wollacott, George Baker, (Mrs Burrows) Reg Casling, Capt Irland, Chief Ambulance Officer, Arthur Welland, (Norma Haniford) George Soby, Fred Langdon, (Gordon the cleaner)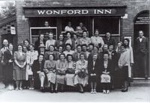 Wonford Inn customers during the war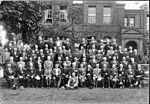 Devonshire Regiment reunion - late 1920s
A reunion men of the Devonshire Regiment who survived the trenches of the First War. Photo courtesy of Brian Brown.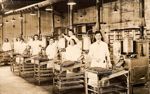 Women on the doughnut line 1944
Women making doughnuts, circa 1943/4. The factory was in Preston Street, which was also the location of an ice cream factory. There was a ready market for doughnuts, after American forces moved into the city prior to D-Day.
Thomas Brown - 1946/7
The three wheeler Scammell articulated lorry was a common sight down at St David's Station, and around the city. The driver of this Scammel, Thomas Brown left, had been previously a coal miner in Nottinghamshire where he was born. He joined the Royal Horse Artillery and posted to Topsham Barracks. He met and married an Exeter girl, Lilian Gallin. Thomas was a fit, sporty and energetic man and was an Assistant Trainer with Exeter City FC for at least 5 years in the late 1920s and early 1930s. Photo courtesy of Brian Brown.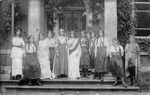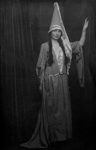 Winifred Gladys Lavers - circa 1914/18
Winifred Gladys Lavers studied at the Royal Albert Memorial College (University College of the South West of Exeter from 1922) and went on to become a teacher in Plymouth. She is possibly dressed as Rosaline. She is also in the group photo – can anyone suggest where it was taken? Photo courtesy of Annette Sercombe.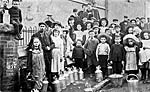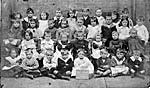 Claude Watkins - 1905
A note on the back of the photo on the left stated "Am sending this photo during water famine here, with Claude sitting on pillar with water jack in his hand. The boy with the dirty face and sweater on." It would seem that the water supply had failed. His father Sidney Herbert Watkins had a cobblers in Commins Road. Claude was born on Cowick Street and later married Elsie, pictured right in this circa 1910 photo of Exe Island Infants, marked with a cross.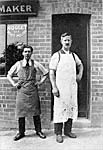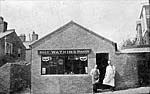 Sydney Herbert Watkins - circa 1900
Sydney Herbert Watkins (with the moustache) ran a cobblers in Commins Road. He'd come down from Haverfordwest before 1900, and married a girl from Crediton called Jane Burge who was a sweet-wrapper at the sweet factory. They lived at 73 Pinhoe Road according to the 1901 census and, unsurprisingly, the shop was just behind the house - the building is now the Model Cellar. Photo courtesy of Dylan Watkins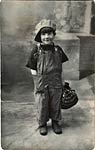 Ivor Laskey as Jackie Coogan - 1921
"My father won a competition to be a Jackie Coogan look-a-like. For a prize he won cash, an amount which we believe was five pounds. He had to stand in the foyer of the old King's Cinema, Okehampton Street for a week to publicise Jackie's film, The Kid, circa 1921. My father who is deceased was Ivor Laskey of St Thomas." The photographer was Alan Mills of Heavitree Road. Submitted by Terry Laskey, Exwick.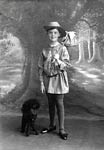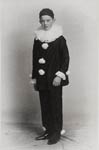 Henry Holladay by Henry Wykes - circa 1925
These two photographs are from a series of Holladay children photographed by Henry Wykes in the 1920s. Wykes had a studio at this time down on Exe Bridge, and, like many photographers, had a varied series of backdrops and props for his portraits. These photographs of the future managing director of Garton and King, shows the young Henry dressed as Pierrot and Dick Whittington. Photos courtesy Richard Holladay.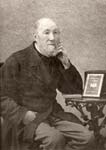 James Garrey Cossins with his book - 1882
Anyone who has read more than a few pages on Exeter Memories will have seen various quotes from James Cossin. His notes on Exeter past, for the Flying Post in the 1860s and 70s, were compiled into a charming little book called "Reminiscences of Exeter, Fifty Years Since." Executions, choosing the Mayor and the grand holiday known as 'Nutting Day' are described with affection and some nostalgia. It is amusing to read how he considered Exeter to be so quaint, if not old fashioned, in comparison with the modern city of 1877 when the book was published. Many look back today to the 1950s and 60s with the same nostalgia, as the memory conjours up a simpler and even naive age. Cossins was born in 1813 and died in 1883.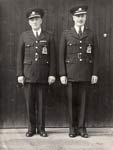 Charles Woodland AFS (Mayor 1959) - 1939
Charles Woodland, left, in his Auxiliary Fire Service uniform in 1939. Educated at St Thomas' School, he became a heating and plumbing engineer after the First War. He was one half of Woodland and Stephens who were based in Palace Gate. Woodland was elected to the city council for Rougemont in 1945. In 1959 he was chosen as Mayor, when he said "It has been my ambition to be Mayor of Exeter since I was ten years old." In 1961 he was found dead, from a gunshot wound to the abdomen, in a field at Beare Farm, Broadclyst. Nearby was a discharged twenty-bore shotgun. The inquest's verdict was misadventure as the evidence suggested the gun went off accidentally as be was climbing over an overgrown wooden gate. Photo courtesy Robert Morgan his grandson.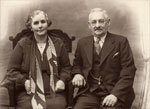 Mr and Mrs Willie Hutchings - 1939
Taken on the occasion of their Golden Wedding in May 1939, this photograph appeared in the Express and Echo. Married in 1889, Mr Hutchings had worked for the Co-op for 26 years before starting his own business in Clifton Road. On retirement, he took up bowls, playing at Belmont Park. Mr Hutchings had vivid memories of the Theatre Royal fire in 1887, when he was a young man, and of the end of the turnpike era when it cost 4½d for a pony and trap to pass through. Photo courtesy of Aubone Braddon.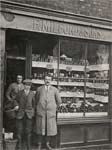 Mr Milford outside his shop - early 1920s
Fred Milford opened his fruit and vegetable shop at 45 Paul Street, in 1908. By 1925, his three sons had joined the business, which moved into wholesale, from its King Street premises. Now based at Marsh Barton, the company has a fleet of lorries and vans delivering fruit and vegetables across the county and beyond.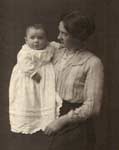 W G Hoskins and his mother - 1908
The late historian Dr. W G Hoskins and his mother Alice Beatrice Hoskins (nee Dymond) pictured in 1908. His father was a baker in St David's Hill - his great grandfather opened a bakery in Rack Street in the 1830's, then Smythen Street, before the family business ended up at St David's Hill between 1891 and 1895. Hoskins is most noted for his books The Making of the English Landscape, Devon and Its People and Industry and Two Thousand Years in Exeter, all of which have become classics in local history. He died in 1992. Photo kindly supplied by Angela Marks, Hoskins niece.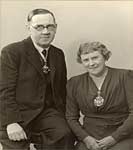 Fred and Nell Cottey - 1951
Fred Cottey was Mayor in 1951/52; it was Cottey who proclaimed, on the steps of the Guildhall, the accession of Queen Elizabeth II after the death of George VI in February 1952. Fred Cottey was also instrumental in founding Exeter Speedway in the late 1920's. As a director of the Theatre Royal he would often have the pantomime stars stay at his house in New North Road, during their run. Photo kindly supplied by Angela Marks.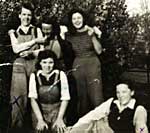 Land girls at Cleave House
These are a group of young women who were land girls during World War Two, based at Cleave House Exwick. The girl lying on the ground is Lily Hopkins. Photo courtesy Ryan Hill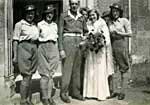 A Land girl wedding at Exwick Church
This photograph, provided by the same person as the one to the left, shows the wedding of a land girl at Exwick Church circa 1943/4. Since posting the photo, I have been informed that the bride is Elsie Cook, who still lives locally. Lily Hopkins from the photo opposite is also in the wedding group. Photo courtesy Ryan Hill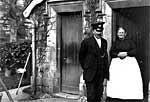 Mr and Mrs William Burrows
Mr William Burrows was the keeper of the Bonhay Pleasure Ground, just up river from the cattle market during the 1920's. He lived in a lodge, since demolished, with his wife. Their granddaughter and great granddaughter still live in Exeter.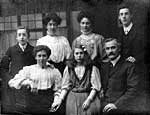 The Shute Family - 1908
Tom and Helena Shute and their five children lived at 56 Polsloe Road in 1908. The family were still there in 1919, but by 1923, the house had a new occupant. Tom Shute was a cab driver, groom and gardener. Christopher Shute from Australia supplied the photograph.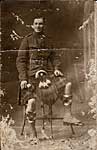 A wounded soldier circa 1917
This photograph was one of several, of wounded soldiers, given to Winifred Batcock, who was a nurse at Heavitree Hospital (VA Hospital No 3) during 1917 and 1918. See photo to the right. The soldier wrote on the back of the card "With Best Wishes to Nurse Batcock - I will always remember my happy stay in sunny Devon, from Duncan" and "A Scoty might be kilt by the cauld, but never cauld with the kilt".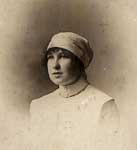 Nurse Winifred Batcock 1918
Winifred Batcock was born in 1894 in Tottenham - she had three brothers and one sister. Before she came to Exeter in 1917 to train as a nurse, she worked as a cleaner. She worked at VA Hospital No 3 (Heavitree) were she met, in May 1918, a wounded Australian soldier called Charles Osborne whom she married in October 1918. She had a son after the war and moved to Australia with her husband and baby. Her grand daughter, Tamsin Harvey now lives in New South Wales.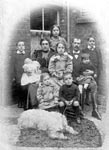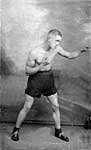 'Boy' Wellaway and family - 1930's
The Wellaway family, left photo, lived in St Thomas. Hubert Wellaway seated right was landlord of the Bullers Arms, Alphington Street from 1914 to 1927. His son, Reginald sits on his knee. The pub had a boxing ring at the rear of the premises, which may account for Reginald taking up the sport, when he was known as 'Boy' Wellaway from 1925 to 1939. His first bout was at the age of 15. He appeared at least six times in the Civic Hall in local fights, and by 1930, he had won 5 and lost 2. He died from a brain haemorrhage at the age of 29. The photos were supplied by Simon Wellaway, his great nephew who still lives in Exeter. Statistics compiled by Miles Templeton.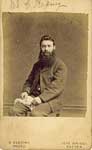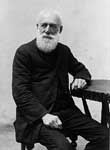 Charles Keeping - 1842 to 1926
These two photographs of a young and elderly Charles Keeping were sent to me by Pam Salzman his great grand daughter. Charles was a photographer in Torquay before moving to the studio at the Exe Bridge in 1870. This was the same studio that Henry Wykes took on in 1913. Keeping moved to Exmouth in 1891 before returning to Exeter by 1901. He was still listed as a photographer in 1923, when he photographed the newly completed Exeter War Memorial. See Brett Paynes listing for Charles Keeping.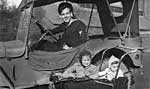 John Moon, US Navy 1944
John Moon came to Exeter with the US Navy when they opened their supply base at the Exeter Golf Course. He worked in the communications section, setting up radio systems for D-day. His unit landed at Cherbourg after the main assualt on the 6th June 1944. He now lives in Rhode Island.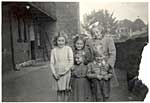 Robert Stewart - 1950s
Robert Stewart lived in a flat in Follets Building, Mermaid Yard, in the early 1950's. In this photograph, Robert, surrounded by four girls, is standing on the lower balcony of Follets Building, which can be seen to the left with South Street in the rear and Coombe Street over the wall on the right.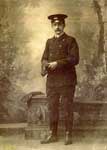 Fred Nibbs circa 1910
Fred Nibbs obtained a job as a chauffeur in Torquay before the First World War. After he married, he moved with his wife to Exeter in 1913 and became a mechanic for Standfield and White in Sidwell Street. Apart from service during the First World War, he remained with Standfield and White until he retired.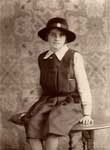 Olive Nibbs circa 1933
Olive Nibbs pictured in her Bishop Blackall School uniform in 1932. Olive lived in Weirfield Road and went to school in Holloway Street, before the family moved out to Whiteway Drive off Sweetbier Lane. She went to Bishop Blackall School in 1932 which she left in 1938. Olive now lives near Poole in Hampshire.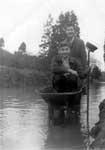 Mike Ewing - 1960
Mike Ewing, in the wheelbarrow lived in Exwick Villas during the floods of October and December 1960.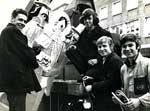 Roger Mitchell - 1973
Roger Mitchell, a senior electrician for South West Electricity with a group of workers putting up the Christmas lights in Exeter High Street during 1973.
│ Top of Page │