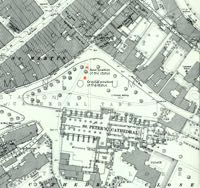 Richard Hooker was born in Heavitree in 1554 and educated at Exeter Grammar School. He went on to study at Corpus Christi College, Oxford in 1567, sponsored by Bishop Jewell of Salisbury. He gained a fellowship in 1581.
Hooker had few social graces and is said to have asked his landlady to find him a wife. He married Joan Churchman in 1584, and after a short time in Buckinghamshire he moved to London as Master of the Temple until 1591. He moved as vicar to Drayton Beauchamp and then Boscombe, near Salisbury
His sermons were considered best avoided. However, as a religious thinker, he travelled the country, preaching and arguing his views. Some consider him the 'father of Anglicanism' for his Ecclesiastical Polity, published in 1594, a radical book on religion, which argued that the church should take a middle way, and not be too puritanical. He died in 1600, at Bishopbourne near Canterbury.
The unveiling
The statue is carved out of white 'pentilicon' marble*, weighing 2 tons 1 cwt (2082 kilos), and originally had a grey granite base. The granite base was supplied by J Easton and Son of Exeter, from their Blackenstone quarry, Moretonhampstead, and stands in the centre of the ancient Cathedral common burial ground. It was sculpted by Alfred Drury ARA (1856-1944), at a cost of a thousand guineas, paid for by Mr Robert H Hooker of Weston Super Mare, a descendent of an uncle of Hooker's. Drury used a portrait by a Flemish artist that is held in the National Portrait Gallery, and was given to the gallery by his family descendents.
Exeter Memories - Hooker Statue
It depicts the 'Judicious Hooker' as he was known, seated with his book. Within a few hours, postcards of the statue were for sale in Worth's Gallery at Mols Coffee House.

Drury also created a bronze statue of Sir Joshua Reynolds, a Devonian, that stands in the courtyard of the Royal Academy.
The move
In October 2010, the Cathedral Authorities, in a £600,000 project, replanted the trees on the Green, relaid the footpaths and moved the Hooker statue some 5 metres forward, on to a new plinth, to face the northern entrance at Martins Lane. The statue can now be viewed at closer quarters, without having to step onto grass.
*Pentilicon marble was used for building the Parthenon in Athens. The best is a pure white marble normally only quarried in Greece. Due to past exploitation, the marble that is now quarried tends to be greyer in colour.
Source: Exeter Flying Post, Exeter and Plymouth Gazette, and various websites.