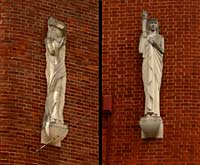 In the centre of the new Princesshay, at the junction with Banpfylde Lane, high up on two adjacent corners, can be found these two sculpted figures. It is very easy to miss the figures, which have actually been a feature of Princesshay for the last 50, or so, years.
Originally placed at the Cathedral end of Princesshay, with the junction of Bedford Street. They were created by Darsie Rawlins an ecclesiastical sculptor and unveiled on 26 June 1957 by the Mayor. Rawlins was born in 1912 at Kentmere, Westmorland who became a Fellow of the Royal Society of British Sculptors – he died in 2003.
The Princesshay figures allude to the blitz of 1942 and the destruction of the city. They are rather tall and elegant - the right hand figure covers her head with her hands in despair at the conflagration, her clothing torn and dishevelled. The figure on the left looks out with hope, holding aloft a torch to guide the path of others to a new future. They were commissioned by Shop Development (Exeter) Ltd and the Co-operative and Permanent Building Society. Hope was over the corner premises of the Co-operative and Permanent Building Society and Despair over the Devon and Somerset Stores.

In my view, these two figures are the best of the old artwork from the post-war Princesshay, and it is good to see them back in the centre of the city. They have been nicely cleaned, and hopefully, their new place in the 'streetscape' will make them a more familiar feature of the city, than they were previously.