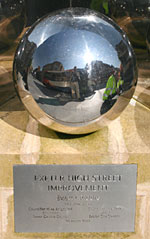 This folded stainless-steel triangular sculpture is the latest addition to Exeter High Street. Made by the artist Michael Fairfax, it has alternate 'wings' with verses from the Exeter Riddles which date from the circa 960AD, Exeter Book, the earliest known example of Anglo Saxon poetry in existence.
The Exeter Book is kept in the Cathedral Library, and has recently been copied, along with translations onto an interactive DVD Rom. The book is not quite complete, as it has been used as a mediaval carpenters chopping block, had glue spilt on it and suffered from scorching at some point. The riddles have been translated into modern English and engraved on the wings of the piece, in reverse. A careful choice of riddles was made, as many were either too long or obscene. The verses can be read, by looking at their reflection in the adjacent 'wing'. Between each pair of 'wings' is a polished, stainless-steel sphere on which is engraved the answer to the riddle.
The 6 meter high sculpture, which cost £65,000 (2005 cost) is part of the million pound plus refurbishment of the High Street. It was unveiled on 30 March 2005 by the leader of the City Council, Cllr. Roy Slack and the Chairman of Devon County Council, Cllr. Mike Knight. Its creator, Michael Fairfax said:
"Some of my father's poetry features in the new book of Exeter Riddles - that's how I came to know there was an 'old' book. I read it and thought the riddles were absolutely brilliant, so I decided to put them on the obelisk."
The plaque reads:
EXETER HIGH STREET
IMPROVEMENT
Exeter Riddle
was unveiled by
Councillor Mike Knight MA
Chairman
Devon County Council
Councillor Roy Slack
Leader
Exeter City Council
30 March 2005