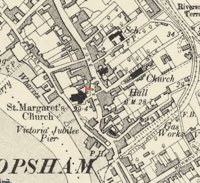 The property was a former newsagent before being purchased by the Bendell's in 1986. They also purchased E Osborne, the Topsham News at 97 Fore Street the same year.
The mural depicts salmon fishing in the Exe estuary, which was once a thriving industry on the river.
This mural can be found at 53 Fore Street, Topsham. Called the Topsham News Mural, it was commissioned by Sue and Roger Bendell. It was painted in monochrome by Kathryn Wragg and based on old photographs of local salmon fishers taken by Sidney Brown, when he was Chief Photographer for the Express and Echo[1].
Sources: [1] Shelagh Phelps