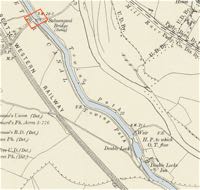 This is an interesting little bridge that joins Alphinbrook Road, Marsh Barton with Riverside Meadows about 1km above the Double Locks. The wooden floored bridge is swung by hand to allow boats to pass up the canal. It is only wide enough for a single car and provides the only vehicular access to the Double Locks Hotel. Crossing is a bit of an adventure and is accompanied by the rattle of the wooden boards as the tyres pass over them. The approach to this bridge is along Clapperbrook Lane, via a very narrow brick built bridge that crosses the main railway line to Plymouth and Cornwall from St Davids.
A gale swept across Devon on 10 September 1903, wreaking havoc across the county. It was reported that three enormous elms fell across the canal close to the bridge, closing the canal for two days. A window at the Double Locks was also blown in.
The bridge was last renewed in 1965, when a tender was accepted from Messrs Conoley & Co Ltd of Falmouth, for a new steel swing bridge at a cost of £2,800.