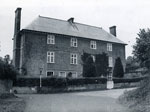 This large house can be found in Harrington Lane, Pinhoe. It was built in 1679, at the same time as the Custom House on the quay and may have used the same brick making facilities. As a large house, there is evidence that it is modelled on Clarendon House in Piccadilly which was built in 1667. There is also reason to suggest that the house once had two wings projecting from the main block, although there is now no visible evidence.
Some sources say that the house was used by Charles II to garrison troops, soon after it was built. The window tax introduced by William III in 1696 led to some windows being blocked up, which can be discerned in the black and white photo. It shows the house in the early part of the 20th Century, where you can see a slight difference in the brickwork between the windows, indicating the blocking up. Notice the addition of three dormer windows in the 'modern' house.
In the 18th century, Sir John Elswill owned the property, along with 1,200 acres of land. It is said, that the house was again used as a garrison during the Napoleonic Wars. A later tithe map of 1840 shows the owner as Lady Freemantle, the daughter of Sir John Freemantle, who let it as a farmhouse. In 1898, the farm, which presumably included the house, failed to find a buyer at auction, when it was withdrawn at £2,100. During the 1920's, the house went into a decline and was derelict by 1976, when it was restored. It is now a retirement care home for nineteen guests.
Black and white photo courtesy of Robert Adams.