Join the Exeter Memories
Group Page
Polsloe Bridge Holt
Page added 11 November 2008
This small halt was opened on 1 June 1908 when the line as far as Topsham was doubled and a steam motor-rail service introduced. Originally, both and the up and down platforms were constructed of timber. In 1927, the platforms rebuilt using pre-cast concrete components that were fabricated at workshops located at nearby Exeter Junction. Each platform was approached, initially by wooden steps, that were replaced by concrete steps when they were rebuilt. The halt also had a small concrete shelter for passengers, and there was a ticket office at road level below the down platform, requiring the ticket clerk to leave the office to intercept passengers bound for the up train.
One of the tracks was lifted on 4 February 1973 and the old up platform served for both directions. Just above the halt was a siding to the Rougemont brick works that in the 1970's became Westbrick, before it closed and was redeveloped as housing. From February 1965 the halt was unstaffed, and it now serves what is known as the Avocet line to Exmouth and is operated by First Great Western.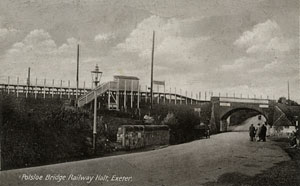 Polsloe Bridge Holt circa 1910, looking towards Exeter.
Polsloe Bridge and the halt on the embankment.
│ Top of Page │