Join the Exeter Memories
Group Page
St James' Park Halt
Page added 11 November 2008
Adjacent to the Exeter City Football Club, this little station originally opened as Lion's Halt in a cutting beneath the football ground on 26 January 1906 for the London and South Western line to Waterloo, which was opened in 1860. The halt was opened to take advantage of the steam motor-rail service to Honiton that was inaugurated in 1906, and the introduction of a similar service to Exmouth in 1908. On the outbreak of the First World War, guards were placed on the entrances to the Mount Pleasant Tunnel, four hundred metres from the station platforms in the up direction, in case German saboteurs tried to damage them. Within weeks, thousands of Canadian troops in transit from Falmouth and Plymouth would pass through the little halt on the way to Salisbury Plain and then to the front in France.
On 7 October 1947, the name was changed to St James' Halt to identify it with the football club which it served, although 'halt' was dropped in 1969. There are two platforms for the doubled track with a small shelter on each platform. The down platform is only long enough to take one or two coaches. The holt now serves both the London Waterloo and the Avocet line to Exmouth.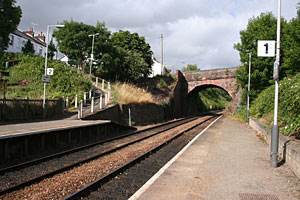 St James Park Halt looking east on the up platform towards Exmouth and Waterloo.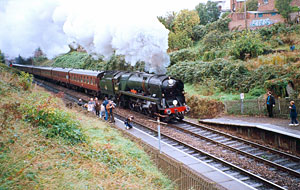 Taw Valley approaches St James Park Halt.
│ Top of Page │