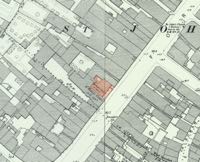 The earliest known reference to Weavers, Tuckers and Shearmen was in 1459 in a dispute as to precedence in the Mayor's procession on Midsummer Night. It is thought, by some, that they met in the Bishop Blaize Inn, down near Cricklepit mill. Eleven years later, the Gild of Weavers Tuckers and Shearers were given a piece of land in Fore Street by William and Cecilia Bowden, on which they built a chapel, now Tucker's Hall. The space was originally a simple hall with a fine wagon roof and six vertical windows. The earliest regulations of the guild date from 1483 when a Master and Wardens were appointed to maintain the standards of craftsmanship of the three crafts. The building was both used as a chapel for special occasions through the year by the fraternity, and also as a meeting place for guild business. After the Reformation the religious use of the building was dropped and it became used exclusively for more secular, trade related affairs.

The guild had managed to retain the building after the Reformation, but Elizabeth I granted the building in 1574 to Anthony Kynwelmarsh of Gray's Inn, who in turn conveyed his interest to Edward Auleby of Rockbeare. This was a blow for the guild, who took legal advice, to retain their interest in the building and other lands mentioned in the conveyance. The situation was very confusing, partly because of the vaguely worded 1574 documents, but in 1579 agreement was made with Auleby to sell the property back to the guild for the sum of £20.

The hall was divided up horizontally and the upper floor utilised as a meeting place for guild members. The guild was granted a Coat of Arms in 1564, which within its design, showed a weavers shuttle, two burling irons, teasel frames and a pair of tuckers shears. In 1602, the guild obtained a Royal Charter which reduced the control the City had over them.

It has been estimated that at the end of the sixteenth century, there were about 100 skilled fullers, tuckers and weavers in Exeter, comprising about 10% of the adult male population. However, although men of some standing within the city, they did not have the same wealth of the merchants who financed the woollen industry. Although the craftsmen leased or owned their own workshops and mills, they were often at the beck and call of the merchants.

In 1630, the oak panelling on the upper floor was installed, while much of the furniture dates from the same period. The ground floor was used as a school between 1675 and 1841, when it closed upon the
The Freemasons
The Hall and premises were refurbished for a cost of £150 after a special meeting in December 1842, so that it could be let to raise some income. The City Lodges of St John's and St George's Freemasons leased the Hall for £20 per year, allowing the Guild access on the last Thursday in August and the 5th November. The Freemasons installed an organ in the Hall to conduct their meetings, and then would retire to a local hostelry for dinner and drinks. The Star Inn on the corner of John Street was a favourite dinner venue post a Mason's meeting. The Freemasons continued to lease the Hall until 1875. From 1875 to the end of the century, the lower hall was used as a Sunday School at a rent of 5s annually.
In 1875-76 both the interior and exterior was restored and cleaned after John Hayward, the architect, surveyed the building in 1853, and found the facade of the building on the street was in poor condition. Unfortunately, a few Victorian details were added to the exterior, although much of the ancient fabric was retained. Repairs were made in 1901/2 to the interior and in 1907 the porch was renovated and a, new oak, stairway installed up to the main Hall.
In 2011, extensive work was made to the building to allow it to be opened to the public. The lower hall has been turned into an interpretation centre with a working, half size pair of stocks, interactive maps and displays, historic artifacts, and samples of serge.
Members of the Guild
By 1700, the City was exporting about 300,000 cloths a year, or about one quarter of the nations wool output, while the membership of the guild was four hundred craftsmen. By the end of the eighteenth-century trade was reduced by the Napoleonic Wars and the success of first Norwich, and second the northern wool towns. Even with the decline of the woollen trade from Exeter, the guild continued to function, mainly to administer various ancient charities, and provide initially, relief for their members families who were going through hard times.

Guild members in the 18th century were known as the 'Golden Tuckers' because their wealth allowed them to clear the market of the most expensive items. They were also noted for their green baize aprons with red strings.
During the last few years, the guild has spent a considerable amount converting the ground floor into an interpretation centre for the woollen trade. A working, half size fulling stock, interactive touch screens and original artifacts from the trade are on display. The upper hall is still used by the Guild of Weavers Tuckers and Shearers for meetings and dinners.
Sources: Tuckers Hall, Exeter by Joyce Youings and Exeter Past by Hazel Harvey