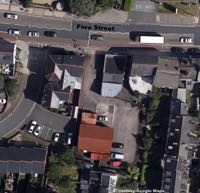 Set back from the pavement on Fore Street Heavitree is Heavitree Evangelical Church. Easy to miss, the one storey Church contains a Meeting Hall and office, with kitchen and a toilet.
Not so long ago this was known as The Ebenezer Gospel Chapel, and the site had previously belonged to the Plymouth Brethren whose Gospel Hall had originally been on the corner of Alpha Street. Then in 1935 the Conservative Rooms had moved from this site in Fore Street, and the Ebenezer Gospel Chapel moved in. This did not last long as the site was one of many destroyed on 4 May 1942 during the Exeter Blitz. Services were moved to Eagle House up the road, courtesy of Mr Alford.
After the War there was a problem getting materials to rebuild, due to the amount of war damage and lack of supplies. A Nissen hut was erected in 1948 when a small allocation of bricks was authorised, just enough to build an outside Toilet. Also, in 1947 they were able to buy six condemned cottages on the edge of the site, which were demolished to form a car park. Finally in 1979 planning permission was received to build the present Hall. Ivor Morrish was the Architect for this project, with Wakeham and Tucker the builders.
The name was changed from Ebenezer Gospel Chapel to Heavitree Evangelical Church fairly recently. The building is now used by local groups such as Age UK, and for meetings and events, including a Toddler Group and by the Exeter Independent Evangelical Church.