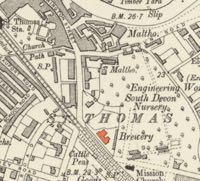 Purpose-built in 1882 by the partnership of Thomas Gould Pidsley, his brother Hayward Gould Pidsley and brother-in-law Thomas Pearman Stevens, the Well Park Brewery was situated in Willey's Avenue, opposite the railway embankment. Built of brick, the brewery incorporated the latest ideas for beer production. The brewery boasted its own well of pure water, allowing the partners to claim in their adverts that the water "gives them confidence in being able to produce ales of undoubted quality."
A 1888 leaflet mentioned the water supply to the brewery in more detail: "A deep well on the premises yields an unfailing supply of the purest water which on analysis was found to contain the constituents so essential to the production of those high class ales for which the Well-Park Brewery has become celebrated."
Hayward Pidsley retired in 1885, and in 1887 the partnership was dissolved when Thomas Stevens sold his interest to Alfred Ross renaming the firm, Ross & Pidsley.
A promotional leaflet printed in 1888, stated "We respectfully draw attention to the facilities offered for obtaining our celebrated ales and stout in patent, screw-stoppered bottles which are so much preferred by reason of their being easily opened." The leaflet went on to say that the stout had "great strengthening properties" and was "recommended for the use of invalids". Double stout could be purchased for 3 shillings a dozen bottles.
In the early years of the 20th Century, Edwin Tucker & Sons Ltd., supplied malt from Newton Abbot to the brewery. Their malt went into such ales as Stingo, which was a Yorkshire term for a very strong 'Old Ale', and a potent barley wine.
Alfred Ross died in December 1913, three years after the partnership with Mr Pidsley was formerly dissolved–Ross then purchased the brewery outright. He sold it on just three months before his death to Messrs. C B G Aylwin and A J Snowden, and it was formerly transferred in January 1914 still under the old name of Ross and Sons.
They continued brewing until 1925, when it was bought by J A Devenish & Company, a Weymouth based brewery, and production ceased. The premises became a sales and distribution depot for Devenish.
The bouncing bomb
A story that has almost become a legend from the Second World War relates how a few days after Christmas 1942, a German raider dropped a bomb on the gasworks. It missed and bounced out of the gasworks yard, along Willey's Avenue, to stop just short of the Well Park Brewery, where it exploded.
After the war, the buildings were used by the city electrical and plumbing contractors I J Cannings & Son Ltd, and later on, a tile retailer. They have just been converted into 14 warden controlled flats.
Sources - Western Times and Exeter and Plymouth Gazette,Exeter Burning by Peter Thomas.