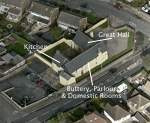 This house, part way up Dunsford Hill was founded by Richard Holland, MP for Devon in 1422, when construction started. By 1429 the private chapel had been completed.
The original house comprised a quadrangle around a courtyard, with kitchens along the north west range next to the road, a buttery, parlour and domestic rooms in the south west, and a great hall on the north east, still surviving. The room above the parlour was probably the solar, where the family could enjoy some privavcy away from the household. The kitchen has a large open range fireplace and oven in the north wall.
The great hall has a fine barrell vaulted roof, probably dating from 1488 and four large, square headed windows, divided into four cinquefoil windows per opening. There were probably shuttered below the transom, while human heads are carved externally on the top corners. The hall is divided by a screens passage at the south end. The house is largely constructed of locally sourced Heavitree stone and volcanic trap.
Richard's great-grand daughter, Thomasina Holland married the Sheriff of Cornwall, John Carew in 1488. During the Civil War, the house was fortified by the Royalists when they held Exeter, and a defensive ditch dug around the house. In 1661, John Carew lost his title and was executed for his part in the death of Charles I, but the next year, Thomas Carew was restored to the manor by Charles II. Later Grace, Thomas' daughter, married Francis Sawle. In 1750, their son Richard inherited Bowhill, along with Barley House and estate, which had been built by his cousin John Pinnock. Richard Sawle lived in Barley and through the 18th Century Bowhill House and land was tenanted. The land was worked by the Luccombe family from 1740 as a nursery. When their tenancy ended in the 1790s, a new lease let the land for nursery use by the Kerwill and Sclaters; the house and gardens were used as a nursery into the middle of the 20th Century. The Graves-Sawle family finally sold the property in the 1930s. In 1968, the house was sold, and opened as a restaurant. In 1976, with the fabric of the building deteriorating, the Department of the Environment purchased it and in 1984, a twenty year archeological project documented the house.
The house is occupied on a 125 year lease by the architects, Harris McMillan, who will give access to the building as part of their lease from English Heritage. The house is Grade 1 listed.
Source: Research by Julia Sharp, Stuart Blaylock's Bowhill The Archaeological Study of a Building Under Repair in Exeter, Exeter Houses byD Portman, and Aspects of Exeter by Peter Thomas.