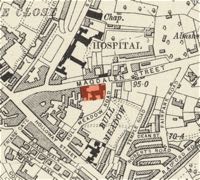 On 11 August 1808, a meeting at the Hotel (Royal Clarence) was held to make plans for an eye hospital in Exeter. A house was found on Holloway Street, with seven beds attended by a matron, nurse and servant. An increase in patients meant that, in 1813, the hospital had to vacate Holloway Street and move to a larger house in Magdalen Street. The building had three storeys, to which was added over the years extensions to enlarge the facility. In 1880, in preparation for a new building, parcels of land between the infirmary and Bull Meadow were gradually acquired, until a large contiguous plot was secured.
In April 1896 an appeal under the chairmanship of Lord Courtenay was launched for a new hospital building. The foundation stone was laid on the 11th April 1899 by George Franklin JP and a new building was designed by Sir Alfred Brummell Thomas (1868-1948) in a hybrid baroque style. He was a specialist in public buildings.
The entrance has a large 18th century marble fireplace that was taken from the former house on the site, and a decorated marble terrazzo floor covers the ground and part of the first floor. It had four wards, a state of the art operating theatre, an 18 person lift, an acre of gardens and cost £25,000. It was known as the West of England Eye Hospital, and offered a 25 bed infirmary. It was considered second only to Moorfields in London. The new hospital was opened on 4th October 1901 by Lady Clinton with the Archdeacon of Exeter giving the blessing. During the First World War, it was designated VA Hospital No 1 for the treatment of soldiers wounded at the front. The hospital was absorbed into the NHS in 1948.
The Eye Hospital moves out
The eye hospital was closed and moved to the newly rebuilt Royal Devon and Exeter Hospital, Wonford in 1992.
The old building became vacant and then briefly used Exeter University before it was sold and converted into the Hotel Barcelona at a cost of £2.6 million, to open in 2001. The hotel was purchased by Swire Proerties Hotels Holdings, closed for a year, for an extensive refurbishment, at the end of 2008. Fourteen rooms were added to the present 46, and a spa was added. The Kino bar closed and a new lounge and bar opened to public and guests alike. When it re-opened, the new name was the rather appropriate Magdalen Chapter.
The world of the corporate leisure chain is a mercenary and cut throat business, for in April 2016 it was announced that the Malmaison Hotel du Vin Group had acquired the four hotels belonging to Malmaison for £36.1 million, and were to rename the Magdalen Chapter, not surprisingly, to the Hotel du Vin.
Sources: Express and Echo and the British Newspaper Archive.