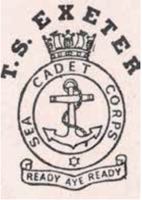 At the outbreak of World War Two, as the Royal Navy needed more skilled young people to join them, over one hundred Sea Cadet units were opened across the UK. TS Exeter was the first of such units to open in Devon. Since then, thousands of young people have passed through its gates. They have all learnt new skills and also learnt about a shared heritage within the City of Exeter. These skills were not only maritime, they were also about helping others, the importance of teamwork and loyalty to a cause and alongside these achievements came growing confidence. All these cadets have taken what they have learnt forward to help serve a wider community in the armed services or civilian life.
This youth movement has always had close ties with the City of Exeter, engaging in a whole variety of civic events including visits by HM the Queen and other members of the Royal Family.
The beginning
Unit 134 of the Sea Cadet Corps came into being in 1940 at St Luke's College. Heavitree, Exeter, under the command of Lieutenant Goodman. The Chair (and Chaplain) was Prebendary R . L. Collins of St. Luke's College.
It was the first of the Sea Cadet units in Devon and about eighty cadets formed the original unit with the name of TS President.
Byron Gregory, Drum Major in 1941, became First Lieutenant of the Exeter Unit. His fine record of over forty years is one to be proud of by any standard. In 1987 he was presented with the Lord Lieutenant of Devon's Certificate for Meritorious Service.
Girls were also welcomed, in 1941, at TS President under the command of Miss Ivy Harkell, a local youth organiser who was also a member of the first Exeter Citizens' Advice Bureau. Her work as a youth organiser seems to have been a very big part of her life. It included arranging many sporting events for youth clubs and cadet groups, including the Sea Cadets. Born in Pembrokeshire, she lived a long life but died a spinster in Exeter at the age of 91, in September 2000.
The Blitz of the Second World War hit Exeter hard in 1942. Along with hundreds of shops, offices and clubs, the building in which the Unit was based was bombed, prompting an appeal by Preb. Collins to find new premises.
After the Second World War TS President became TS Eagle in 1947 and the unit was relocated in an ex-Royal Navy Motor Gun Boat No. 616 moored in the River Exe where the former world-famous Exeter Maritime Museum stood.
he Admiralty allocated several MTBs to Sea Cadet units around the country and this is currently a topic of research for City of London Sea Cadet Corps.
Adopting the name of Eagle meant a close liaison with the old aircraft carrier. and when, in 1967, the MGB had to be broken up, a shore-based Headquarters was opened by Surgeon Vice Admiral Sir Derek Steele-Perkins on May 9, 1968.
Some former Commanding Officers of the Unit have been:
Lieutenant Commander G Goodman (1942)
Lieutenant Commander G. Goodman (1944)
Lieutenant Commander G.H.G Bray (1950)
Lieutenant Commander Rainsbury,
Lieutenants Ron Collman, Len Billen, Richard Cridland and Mike Duke.
Byron Gregory became acting CO after Mike Duke to fill the gap before the appointment of the next CO, Andy Quick.
After a lapse of many years, a Girls Nautical Training Contingent section was formed at TS Eagle under the direction of Mrs D. James with First Lieutenants Sue Tilley and Lynette Aldridge. Six girls, Tina Coad, Nicola Collman, Katherine Carter, Lorraine Gregory, Debbie Pearson, and Debbie Donaldson, were the first to become GNTC, but by February, 1977, the numbers had risen to eighteen. Pam Wright, became D/C GNTC later followed by Wendy Evans (who later became Assistant District Officer), and then Shirley King took over as Officer in Charge GNTC.
In 1978, with the demise of HMS Eagle and the launching of HMS Exeter, Unit 134 became TS Exeter. At the launching of HMS Exeter at Tyneside on April 24 1978, were Cadet GNTC Alison Flack (later to become PO in Charge GNTC at Exeter as Mrs Styles prior to Mrs Audrey Russell] and LS Charles Berryman (later to join the Royal Navy and graduate at Manadon), who were invited by Swan Hunter to attend the launching ceremony.
The previous HMS Exeter, together with HMS Ajax and Achillies, heroes of Montevideo and the encounter with Graf Spee, was sunk in the China Sea in 1945. One of the masts of HMS Exeter now forms part of the Double Locks gates on the Exeter Canal, the oldest navigable man-made waterway in Britain.
A Freedom of the City of Exeter Ceremony for HMS Exeter on January 29, 1983, was attended by Cadets from the Unit and an illuminated certificate bearing the names of all present now hangs in the Unit as a lasting memento.
After threat of closure in 1987, the management committee and parents of cadets at the time began a complete restructuring of the Unit and TS Exeter moved to its current location in May 1988. . It was commissioned by the then captain of HMS Exeter, Commander Roger Ainsley and his wife in December of that year. The Unit went on forge strong relations with Alphington's Royal British Legion and the White Ensign Club, who have sponsored cadets on 'offshore' courses such as the SCC Square Rigger,TS Royalist.
Civic events have generally included marching through the city on events such as Trafalgar and Remembrance parades. In addition the Cadets marched through the city accompanying the crew of HMS Exeter, exercising their right since they had been honoured with the Freedom of The City. The final instance of this was in October 2008.
The 50th Anniversary was celebrated in 1990 when TS Exeter was allowed an armed guard.
By 1991, under CO Derek Hall, cadet numbers were approaching one hundred and a a Marine Detachment was formed.
TS Exeter went on to be judged the Best Unit in the SW Area in 1997. The Unit was subsequently visited by HRH Prince Andrew, Duke of York in his role as Admiral of the Sea Cadets Corps.
During 2000, six cadets and the CO joined HMS Exeter in Gibraltar for its return to Portsmouth with a second trip on board the ship later in the year. Several key awards were secured including the Stephenson Trophy for the best Unit in the SW Area, outright winners of the District Regatta and the Captain Thomas Trophy.
2001 brought further accolades including winning best guard commander both armed and unarmed and ultimate overall winners in the District Drill competition.
As you can see, that period was very successful for TS Exeter. One must remember that as all the staff are volunteers i.e. no one is paid to run the Unit or train and lead the cadets, a reduction in volunteers often has the effect of reducing what can be achieved. Success tends to attract more support and so, when that support is lacking, it takes even more effort on the part of the team to keep things going. Less volunteers means less can be done—and the range of activities is often reduced—which is one of the main attractions maintaining or increasing cadet numbers as they inevitably move on. It's the same with fund raising, as a reduction in overall numbers can affect the amount of fundraising activities—like marshalling at community events.
But TS Exeter seems to have a track record of rising to a challenge and recovering from tough times with a good team. Like every SCC Unit across the country, we always need more help from volunteers to share the load, bring in new ideas, fresh enthusiasm in everything from helping to run the Unit to helping with fundraising, events, not to mention train and lead them and, in short, to do the best for the cadets.
Over recent years, as an independent self funded charity (receiving no income from the MOD), the team has worked tirelessly together and cadet numbers are climbing once again. More cadets are taking advantage of the huge range of courses that are offered by the sea cadets. Funds were secured to buy a new rigid inflatable boat (RIB) that acts as safety boat when cadets are out engaged in paddle sports. Cadets have been 'offshore' on the Sea Cadets dedicated training vessels, TS Jack Petchey and TS Royalist. Others have been on courses such as windsurfing, kayaking, powerboating, sailing, marine engineering, seamanship, first aid, drill, navigation, physical training, shooting, and leadership.
Time line for TS Exeter Sea Cadets
1940 – Exeter SCC established under Chair Preb. R.L.Collins
and CO Lt Goodman
1941 – Girls welcomed to join under leadership of Miss Ivy Harkell.
1942 – Blitz destroys hundreds of buildings in Exeter and makes cadets
homeless when St.Luke's College is severely damaged.
Bishop of Exeter dedicates Drums of Exeter SCC
Unit named TS President
1942 - HQ in room above shops in North Street, Exeter.
1947 – TS President becomes TS Eagle. HQ established on MTB 616.
1949 – Princess Elizabeth (later HM The Queen) inspects Exeter Sea Cadets during her tour of Exeter.
PO Hancock of TS Exeter selected to join 48 other cadets at the first ever Commonwealth Sea Cadet Camp
in Canada.
1950 - Awarded Efficiency Pennant by Vice Adm. Sir R.R. Mc Grigor, CIC Plymouth.
1967 – MTB 616 scrapped.
1968 - Shore based HQ established, opened by Surgeon Vice Admiral Sir Derek Steele-Perkins.
1976 - Girls Nautical Training Contingent set up.
1978 - TS Eagle becomes TS Exeter when HMS Exeter is launched. Cadets Alison Flack and
Charles Berryman attend the commissioning ceremony.
1980 – TS Exeter win South West Area Field Gun Competition
1982 – Cadets meet Sir Rex Hunt, Govnr. Falkland Islands.
1983 - TS Exeter Cadets attend 'Freedom of The City' ceremony for HMS Exeter.
1986 – Visit by Admiral of The Fleet, Sir Henry Leach, former First Sea Lord.
1987 - Construction begins for new TS Exeter HQ on Haven Banks.
1988 - TS Exeter HQ opened by the Mayor, Bill Rowe and Mayoress.
1990 – 50th Anniversary celebrated with march through Exeter of all Devon SCC Units.
Marine Cadet Detachment formed.
Cadet Zoe Hambly is Lord Lieutenant's Cadet.
1993 - Junior section established.
1996 - Cadet Tim Browning is Lord Lieutenant's Cadet.
1998 - Visit by HRH Prince Andrew, Duke of York. Cadets meet HRH Prince Edward, Duke of Wessex at Bicton College.
1999 – TS Exeter win Stephenson Trophy For Best Unit in SW Area for the first time— and again in 2001 and 2003
2001 - Overall winners District Drill competition.
2002 – Cadet Nick Stone, Lord Lieutenant's Cadet, assists Her Majesty The Queen.
during her visit to Exeter as part of Golden Jubilee celebrations. Cadets and other uniformed youth organisations line the route.
2003 - TS Exeter become of the top six best Units across the country competing for Canada Trophy.
2003-08 Cadets march with company of HMS Exeter exercising the HMS Exeter's Freedom Of The City).
2009 - Cadets visit HMS Exeter.
2010 - Cadet Jamie Pym is Lord Lieutenant's Cadet.
2013 - Funds secured for purchase of new RIB, supported by Exeter foundation.
2014 - HMS Defender becomes TS Exeter's affiliated vessel.
2015 - Unit celebrates 75th Anniversary. Awarded Heritage Lottery Grant – the first Unit in the country to receive this award.
If you have memories, other information or artefacts that would enrich our shared heritage, or you would like to help us in our work, please get in touch with us at TS Exeter, Haven Road, Exeter EX28DU, telephone 01392 426664 or email tsexeter@googlemail.com