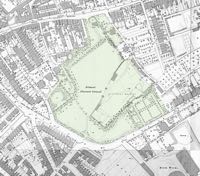 This park is situated between Blackboy Road and Belmont Road. It was one of the first of the late Victorian parks in Exeter to be opened. The Public Health Act of 1875 gave local authorities the power to make by-laws for the provision of public pleasure grounds. Exeter opened the 5 acre Belmont Park in 1886, part on the site of a brickfield belonging to a Mr Phillips, and part on land belonging to William Huxtable. The laying out of the park cost £1,400, including the filling in of several hollows, from the brickfield.
The next year, the park was the centre for a pageant of Olde Englishe Sportes to celebrate Queen Victoria's Diamond Jubilee. The 1897 Kelly's Directory, noted that John Lock was the keeper and also remarked 'The neighbouring streams afford abundance of amusement to the angler'. I bet there are no fish now! In 1902, the Coronation Celebrations for Edward VII saw Belmont Pleasure Grounds used as a venue for various sports including the egg and spoon race, sack race and wheelbarrow race. The programme stated that spurs were not to be used in the donkey race.
Before the First World War, the park was a highly regarded botanical garden, and the Exeter guidebooks recommended that tourists visit the park to appreciate its varied plants and trees.
In 1939, the first garden in England designed for the blind was planted. Known as the Belmont Scent Garden, it is situated in the east of the park and contains many of the best fragrant plants that will grow in the country. During the Second War, temporary wooden huts were installed on the gravelled areas for the Army Pay Corps. In 1949, the huts were adapted for use as the technical college. They are now used as the Community Centre and Playtraining Resource Centre.
There is a children's play area in the park, a basketball court, and a bowling green on the Blackboy Road side, opposite the pub called, the Bowling Green! During 2008, a new rose garden was planted, with 21 different varieties of rose bred by Gertrude Jekyll, an influential garden designer who died in 1932, and William Lobb, a plant collector for the Veitch nursery in the 19th Century.
Sources: British News paper Archive