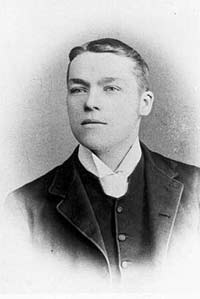 The range of popular postcards published by Worth's Gallery in the early 20th century of Exeter's buildings, from watercolours by Sidney Endacott, are still sought by many postcard collectors. Endacott, the fifth of seven sons of John and Mary Endacott, was born at Ashburton in 1873. His grandfather, James Endacott, was listed running the Ring of Bells Inn at Mortonhampstead in 1839. John Endacott had become a builder and architect, although by 1897 he was a confectioner in Station Road, Ashburton. His son, Sidney was sent to Ashburton Grammar School, from where, in 1885 he won a scholarship to attend the prestigious Blundells School in Tiverton, all the while encouraged by his father to develop his talent for drawing and wood carving.
Sidney suffered from long term osteomyelitis, brought on by two serious falls, one from a fairground roundabout as a child, which perhaps encouraged him to develop his artistic skills as a career. Two of his brothers, William and Frank migrated to the United States, so at the age of 20, the young Sidney followed them to Lawrence, Kansas where the former Civil War General Roberts was having constructed a large mansion called the Castle. Sidney was employed to execute the wood carvings in 15 rooms of the house. The General allowed him free reign after he had been taken to the saw mill where he made some impromptu sketches with red and blue pencils of cherubs, bunches of grapes, fruit and angels, impressing the General with his artistic talent. Within three months, the young artist had carved five mantle pieces, staircases with newel posts and other decorations for the General. Once the assignment was complete, Sidney returned to England.
Return to Devon
The well established firm of J Wippell and Company in Exeter produced everything from brass candlesticks, to pews, stained glass and ecclestiastical clothing. Sidney obtained employment with them as a wood carver and stained glass artist, where he quickly established himself as a craftsman of the first order – his carved crucefixes were considered to be the finest in the country.
At the age of 30, Sidney Endacott married Bertha 'Lily' Haydon from Cowley Road, a marriage that would produce his son Bernard, born in 1910. Years later, Bernard would also work for Wippell as a stained glass artist. Sidney's poor health continued to plague him, and in 1910 he wrote next to a sketch for his father "I find it impossible to undertake anything larger, so I amuse myself by doing little sketches like this."
He taught at the Exeter Art School for a while, before Worth's Gallery, which was situated in the famous Mols Coffee House, engaged him to produce several series of paintings to be turned into picture postcards for the fast developing tourist trade. In total, there were 19 series of cards painted by Sidney, covering such subjects as the Buildings of Exeter, the Homes of Famous Devon People, Views of Devon and Cornwall, and Devon Cottages. Some of the series of postcards consisted of up to 40 paintings – Sidney must have produced in total more than 500 paintings for Worths Gallery.
A series of paintings of Elizabethan Devonians included Sir Francis Drake, Sir Walter Raleigh, Sir John Hawkins, Sir Humphrey Gilbert and Sir Richard Grenville. The coat of arms of these families had been painted on the oak panelling inside the gallery by John Gendall, fifty years before, and Worth's were keen to promote their often dubious connection with Mols and the Ship Inn a few yards away.
During the First War, Sidney wanted to support the war effort, but his continuing ill health prevented him from serving in the forces. He obtained work producing manuals for Army lorries, creating hundreds of intricate drawings of parts and assemblies in a style that was easily understood by army mechanics servicing the equipment just behind the front line.
An early death
Sidney's osteomyolitis continued to plague him, and he worried that he may not be able to continue to work and support his family. He taught his wife Lily to paint, and she demonstrated her talent by painting scenes for the flourishing postcard market. On the 3rd November 1918, Sidney Endacott died, leaving his widow, Lily to support the family with her paintings turned into postcards by Worth's Gallery. He was buried on the 8th November 1918 at Higher Cemetery aged 45, as a dissenter.
The London Art Journal wrote in its obituary "Sidney Endacott was one of the four best watercolour artists in England and perhaps the best sculptor of life-sized crucifixes of the 19th Century".
Years later, Sidney's widow gave this picture of her husbands family at the kitchen table in Ashburton – "There used to be some fine old arguments around the meal table [in Ashburton]. Sometimes John joined his sons, Sid, Norman and Arthur (three brothers)—all talking at once, and none of them with very soft voices. Another thing that intrigued me was, one of them would make a sketch of something interesting on [the] white tablecloth while we were having breakfast. Each one in turn would see an improvement that could be made, from his point of view. In the end there would be sketches all over the tablecloth." Lily Endacott remarried and had a second son, Allan – she lived until 1952 and was buried in the same grave as Sidney. The gravestone is in the shape of an artists palette.
Postcard dealers and fairs still have a healthy trade in Sidney Endacott's work, and they can often be picked up for very modest amounts. He still has two granddaughters living in Exeter, and members of his family still own Endacott originals. A photograph of a framed original with his granddaughters, indicates that the printing process of the postcards in the early 20th century has lost a lot of the fine detail in their grandfather's work, and do not give real justice to Sidney Endacott's talent.
Sources: Express & Echo, www.castletearoom.com and the trade directories.