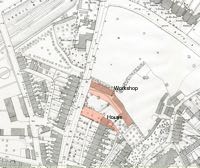 A Londoner by birth, Harry Hems, the prodigious sculptor and wood carver, made a home and a name from nothing in Exeter due to his genuine talent. Born at 35 High Street, Islington on 12th June 1842, Hems was apprenticed in Sheffield as a cutler, worked in London and Italy learning wood and stone carving, all the time, gaining a reputation as a craftsman of quality.
When the Royal Albert Memorial Museum was being built, in 1866, there were no suitable craftsmen to carve the extensive stonework on the building. Hems was contacted and asked to come and work on the nascent building, arriving in Exeter by train. In later years, Harry Hems liked to describe how, as he ascended St David's Hill from the station, he picked up a horse-shoe that had been shed from a passing animal, and promised himself that one day he would nail the shoe over the entrance of his own workshop.
He got to work on the many carvings that were needed to be completed before the grand opening of the museum in April 1868. Hems took lodgings as he established himself in the city; he could be tetchy which may explain the real reason why Charles Lowe took him to court in 1867.
"Henry Hems, a sculptor, employed at the Museum, was summoned for assaulting Chas. Lowe. Mr. Floud appeared for the defendant. The complainant said that about nine o'clock on Tuesday morning he was passing by the Museum when the defendant abused him, and threw a small stone at him, which struck him on the forehead. In cross-examination by Mr. Floud, the complainant admitted that the defendant used to lodge with him. - Richard Ley said he was passing at the time, and heard the defendant, who was working with his chisel abusing somebody. He did not see him throw a stone at anybody. Anyone passing would be liable to be struck by the chips which fell from the chisel. The Bench considered that there was no evidence as to throwing the stone, and dismissed the case." (Woolmers Exeter & Plymouth Gazette)
Marriage and work
He married Charlotte Presswell Turner in 1868, and after a short time, moved into a house with a yard and workshop at 83 Paris Street. In 1877, the couple had a son, Wilfred, who would eventually follow his father into the business. Such was his reputation from the museum work, that Harry Hems expanded his business with further commissions from Exeter and surrounds. Soon, Hems was employing a workforce gathered from his many craftsmen colleagues in London. He expected as much from his workforce as he was prepared to do himself, which was a lot, as he was said to work "from six in the morning until nine at night, and often much later." Anyone that was deemed to be less than diligent would often provoke Hems to fight; in 1878 he was fined £1 and costs for fighting one of his workers, and it was not an isolated case.
He produced oak seating, altar rails, and a pulpit for Stowford Church, from designs by Sir Gilbert Scott. His stone carving of the reredos prompted the North Devon Journal in 1874 to state that Mr. Hem's "fame as an ecclesiastical sculptor and carver is a sufficient guarantee of the excellence and fidelity with which the carving has been done." In 1875 Harry Hems did the carving in stone and wood for St Mary, Upottery, carvings for the parish church in Great Torrington and many more.
The largest house in the smallest estate
Harry Hems also undertook secular work and was commissioned in 1878 by Sir Henry W Peek to produce both interior and exterior carvings for the Tudoresque, Rousdon near Lyme Regis, for what was claimed to be the largest house in the smallest estate in England. Interestingly, the Italian marble was said to be from a ship wrecked on the coast a hundred years before.
Despite his irascibility, business flourished, and he began to take commissions from abroad. In 1876 he won two medals at the Centennial Exhibition in Paris, a medal in the Centennial Exhibition in Philadelphia in 1878, and many more. By 1879, his firm had produced carvings for 400 churches and 100 public buildings.
The time had come for a purpose built workshop, and in 1881, he acquired two acres of land at what would become 84 Longbrook Street and engaged R. Medley Fulford as architect to design a building that would match in quality of construction, the output from his workforce. And over the entrance he fixed his lucky horseshoe, with the legend "This place all grew from an old horseshoe." Harry Hems was rising in society as he became a church warden at St Sidwells, a city councillor and member of many societies and local institutions, such as the Devon and Exeter Hospital. Hems lived at 82 Longbrook Street, between 1885 and 1916, in an end terraced house with a corner turret, that was named Fairpark.
The new workshop employed 70 in the 1880s and 100 by 1895. He collected parts from many churches, such as medieval bench ends, misericords, roof bosses and other pieces and displayed them in rows, within the workshop, for his workers to use for inspiration and pattern. He ensured his workers used tried and tested methods of construction, and in 1882 wrote a letter to the Flying Post where he claimed the firm never used iron nails, but used oak pins in its church furniture.
The tax dodger
Twice he was hauled before income-tax officials for refusing to pay what he thought was an unjustly high demand, and as a result, twice he had his goods held for auction until the outstanding sum was paid. For many years, his habit at Christmas was to lay on a feast for the poor and aged of St Sidwells, ensuring that the local papers reported the gesture.
His firm won a commission to restore St Albans Cathedral High Altar Screen worth £12,000, taking eight years to complete. In 1901, on the death of R D Blackmore, Exeter Cathedral commissioned a memorial to celebrate the author of Lorna Doone. However, controversy occurred when it was discovered that the inscription was grammatically incorrect, and a series of vitriolic letters appeared in the Times from those who blamed Hems, and Hems himself who, claimed he merely, carved what he was sent. His last major commission was for Christ Church Cathedral, St Louis in 1912. Harry Hems died on the 5 January 1916 at Fairpark at the age of 73, after a long illness. He was buried in Higher Cemetery.
Wilfred Hems his son, and Harry Turner continued to run the business, which boomed after the First World War, with the many War Memorials that were required. The firm closed in 1938 when the two partners retired. After the Second War Henry Quick and Company, boot, shoe and leather merchants occupied 84 Longbrook Street. Later it became a wine merchants and is now Harry's Restaurant, complete with the original horseshoe over the entrance.
Source: Trewmans Exeter Flying Post, the Times, Woolmers Exeter & Plymouth Gazette, and the Transactions of the Devonshire Association article by Simon Olding.