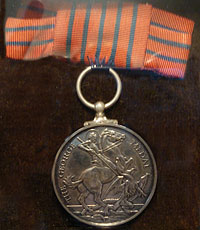 Emily Pearse was an Exeter girl, born in the city during 1902. She trained as a nurse in 1928, and then married William Knee, a baker on 10 August 1929. In the 1930s she went to live in Portsmouth where she continued to nurse, before returning to Exeter just prior to the outbreak of war, where she lived at 14 Merrivale Road, St Thomas.
Before May 1942, Exeter had been bombed seventeen times by the Luftwaffe. Two raids in April 1942 had proved to be particularly nasty, but it was the raid on the 4th May that would bring Nurse Emily Knee and her colleagues to prominence in their efforts to save the life of their patients at the City Hospital, Heavitree.
On the night of the 4th May, Luftwaffe bombers dropped an estimated 160 tons of high explosives, and 10,000 incendiary devices on the city, during a seventy minute raid – the hospital was hit at 1.32am by incendiaries. Hospital staff rallied to the call and battled to get many of their often elderly and disabled patients to safety. As the flames reached "A" Block Sick Ward, her ward, some of the patients told her to get out, but she remained, single handedly heaving men onto carts and wheeling them away from the inferno. Some patients could not be reached, despite Nurse Knee's efforts and nine patients died in the flames. Emily Knee received burns to her feet in the rescue effort, and would suffer with foot problems from her injuries for the rest of her life.
"Nobody tried to get out of bed until ordered. There was no panic; nobody asked to be taken out first. They waited calmly and patiently for help. It was the coolness of these old men that kept me level. I would like their relatives to know how brave they were. The last patient I took out was a downstairs patient. Then a Civil Defence worker ordered us nurses to leave. Just as we reached the drive from the main block the roof crashed in."
Two assistant nurses at the hospital received the BEM – Miss Mary Ann Dorothy Walker and Mrs Mary Megan-Britt. Three other nurses and four men were commended. The Sheriff, Mr H F Tarr said "I doubt if there is another hospital in the country where the staff received so many awards for bravery on a single night." On 26 May Emily Knee gave her official police report on the events of the night.
When interviewed many years later by a Canadian newspaper, Emily Knee described the events of that night.
"Flames were rolling off some of the beds like waterfalls, golden waterfalls... I wasn't scared. Normally, I'm terrified of fire. I remember saying a little prayer – and I'm not religious – 'Oh Lord, look after my kids and I'll do what I can here'... I would have thought it couldn't be done but somehow I managed. We had 100 people there. I lost only five."
She recalled a blind, cancer patient who only the previous day had been transferred from London away from their blitz.
"The next day, all I could find was his watch. It was a little braille watch."
The citation for her bravery stated:
"She remained on the first floor rescuing patients until the fire and smoke were almost unbearable, and the roof and floor above her were on the point of collapse She left the ward only when ordered to come out while it was still possible. Her heroism was outstanding, and at the risk of her life she saved many other lives."
Awarded the George Medal
"They'd come round to sign nurses up for fire watch. I was working six nights a week and refused to work the seventh. 'If anything happens, I'll be there,' I'd said. Then I got this big, official envelope in the mail and I just threw it onto the table when my husband walked in. He says to me, 'I bet you'll have to go before the tribunal."
The envelope contained an invitation to Buckingham Palace to be awarded the highest civilian award for bravery that exists – the George Medal.
"The George Medal! I thought that was only for beautiful young people!"
Emily attended the ceremony with her two young daughters, as she had only been sent three tickets. Her husband went to London with her and waited outside the Palace.
"When they realised Bill couldn't get in they went out to summon him. They couldn't find him. He'd gone to the local for a pint."
When ready for the ceremony, a courtier instructed Emily to lead the procession.
"This man of the court came to us – Lord something-or-other – and he's going on. 'Oh, Mrs Knee, you come here now. You head the line,' and I'm telling him there's no way I'm heading the line,' – I was fat in those days – 'You will take the lead whether you like it or not.!' End or argument. To this day I declare one of the Beefeaters winked at me.".
In 1951, Emily Knee followed her eldest daughter, who had married a Canadian, and emigrated to Canada to continue her work as a nurse. William Knee died in 1964. Emily returned to Exeter, from time to time, to visit her sisters who still lived in the city. She admired the Royal Family, especially the Queen Mother, and met her when the Queen visited Toronto in 1982. The Queen Mother had noted that Emily was wearing the medal that King George VI had given her. Emily Knee died in March 1996, at the age of 93. Her George Medal was passed on to her eldest grandson, who in turn, passed it on to her youngest granddaughter, Catherine Kearney.
City Hospital Heavitree Road.
8pm 26th May, 1942.
Statement of Mrs. Emily Alberta Mardon KNEE, residing at 14 Merrivale Road, Exeter who saith:
"I am employed as a night nurse at the City Hospital, Heavitree Road, Exeter, and I wason duty in "A" Block Sick Ward from 8pm to 8am on the night of the 3rd-4th May; 1942, when the Hospital was extensively damaged by fire during an air raid."A" Block Sick Ward was situated on the first floor, and the following patients were in the ward on the night of the raid:
(1) William Gray age about 64, who was suffering from paralysis of the legs, and could not walk.
(2) Philip Freeman, age 621, who was suffering from severe heart trouble. He was on the danger list and was not expected to live.
(3) Frederick Brown, age 85, who was suffering from general senility and could not walk.
(4) Frederick Taylor, age 38, who was suffering from Parkinson's disease. He could not walk and was quite helpless.
(5) William Northcott age 56, who was suffering from cerebral tumour and paraplegia and was paralysed from the waist downwards.
(6) Albert Batten, age 82, who was suffering from arterial sclerosis, and was quite helpless.
(7) Harry Victor Mathews, age 60, who was very ill with pneumonia, and was on the danger list.
(8) William Henry Mock, age 89, who was suffering from senile decay but was able to walk.
(9) John Holman, age 87, who was suffering from senile decay, and who died a few moments before the Alert sounded, when I was sitting beside him. He had been dangerously ill for some time and he was expected to die that night.
When the incendiary bombs began to fall I went to the top of the building, with others, to try and put them out, but fire broke out and we began to evacuate the patients. We succeeded in getting many of the patients out, but when we came to rescue those in Block "A" Sick Ward the fire was raging and the stairs were ablaze, and we could not get to them. In view of the condition of the men in Block "A" Sick Ward, I am of the opinion that they must certainly have perished in the fire, as they could not get out without some assistance. This statement has been read over to me and is true."

(Signed) E.A. KNEE.
Statement taken and signature witnessed by me:
(Signed) JOHN A. BERRY. Detective Constable.
Source: Catherine Kearney, and various British and Canadian newspaper reports.