Join the Exeter Memories
Group Page
Thom Yorke - rock musician

Return to Exeter People Menu
Member of Radiohead - born in 1968, Yorke is a leading member of the rock group Radiohead. He went to Abingdon School before attending Exeter University to study English and Fine Art. During his time at Exeter he DJ'd at the Lemon Grove and played guitar in the techno band, Flickernoise. He had a record released called 'I don't want to go to Woodstock' with the Headless Chickens. One venue that the Headless Chickens played was 'The Printers Pie' in Sidwell Street, now known as the Amber Rooms.
While at university he became fascinated by the Apple Mac, which had been acquired by the university, and he also worked as an orderly in a local psychiatric hospital. Yorke met his girl friend, Rachel in his first year at the university and was well known for wearing a long coat and trilby hat. Yorke also helped to set up the Cavern Club off Queen Street, a venue that has given many Exeter bands an audience.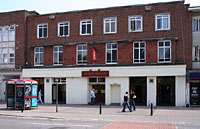 Photo is the Amber Rooms.
│ Top of Page │