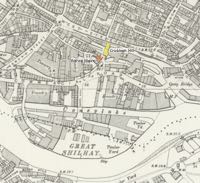 This pub is situated in the area known as Shilhay, close to the quay, on Commercial Road. Dating back to 1327, it is the first public house to be built just outside the city walls.
The building looks like two terraced cottages with the higher leat running behind. Just next to the drying fields of racks, for the woollen trade, the building was used in medieval times as a meeting place for the local woollen mill owners - Tuckers Hall in Fore Street replaced this function in 1471. For some reason, it traded with the name Nosey Parkers for a time up until 1988. The lower leat used to run across the front of the building, and customers had to cross a small bridge to reach the entrance. The leat has since been filled in, and patrons who choose to sup their pint, sitting on a bench at the front, are sitting on the site of a water course that powered many city fulling mills.
Some trade directory entries for the Bishop Blaize:
1816 - Bishop Blaze, public house, west quarter, Bayly, A. Exeter Pocket Journal
1832/3 - Bishop Blaze, Winter, W., West Quarter - Pigot's
1833 - Keeth, Wm bishop blaze P.H. cricklepit-la - Exeter Pocket Journal
1844 - Bishop Blaize - James Clarke - Pigott's
1871 - Lee, Thos., bishop blaze p.h. com.-road - Pocket Journal
1878 - Bishop Blaize, Samuel Boundy - White's. Boundy is also listed as joiner and victualler in Commercial Road.
1884 - Bishop Blaize, Skinner - Flying Post article
1897 - Bishop Blaize inn, Henry Silmon, Commercial rd. Exeter - Kelly's
1906 - Bishop Blaize, Silman, H., Commercial rd - Besley's
1923 - Bishop Blaize inn, Albt. Hy. Gater, Commercial rd.Exetr - Post Office
1934 - Bishop Blaize, Luxton M., Commercial rd - Besley's
1956 - Bishop Blaize Inn, Harwood Luxton (bed & breakfast, fully licensed with old world cocktail bar), Commercial rd - Kelly's.
1967 - Bishop Blaize Inn, Commercial rd - Kelly's
There was a second Bishop Blaize in Sidwell Street which was sold by auction in 1790. Robert Dymond noted in his Old Inns and Taverns of Exeter published in 1880 that ".... a degenerate specimen may still be seen in the Commercial Road".
That the Bishop Blaize gained a reputation is rather confirmed when in 1884, a publican named Skinner of the Bishop Blaize had his license application for renewal refused by the Licensing Justices for the City of Exeter. He appealed through the courts on the basis that evidence given against him in the original application was not on oath. He won his appeal and gained his license.
The modern pub has a strong customer base and in 1990 had its own dragon boat teams in the national championships in Cardiff.
An Armenian, Bishop Blaize became the patron saint of clothworkers - he was persecuted for heresy against the prevalent worship of idols, scourged with iron combs and beheaded in AD 298. The sign shows the Bishop holding a woolcomb, the symbol of his martyrdom.

The one penny token from 1792 has Bishop Blaize on one side. The obverse reads - PAYABLE AT THE WAREHOUSE OF SAMUEL KINGDON.
Samuel Kingdon, was a prosperous ironmonger, known as 'Iron Sam'. Kingdon was instrumental in the founding of Garton and King, iron founders.
Source: Express and Echo, Old Inns and Taverns of Exeter by Robert Dymond (1880), various trade directories and the Trewman's Exeter Flying Post. © 2005/6 David Cornforth - not to be used without permission