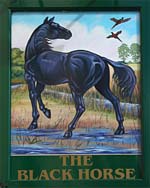 The sometimes, much favoured haunt of the university student fraternity, the Black Horse Inn is the oldest public house in the vicinity of Longbrook Street and New North Road. It was established in the early 18th century as a coaching inn on the main route from Tiverton to the city - this was before the alternate route via Cowley along the Exe Valley was established. Between 1780 and 1787, the licence for the premises was held by Spurrier Flashman, who had been declared bankrupt as a farrier in 1778. In 1788 the inn was burnt down and had to be rebuilt.
Burglars and buckets
In 1804, the Black Horse was in the Flying Post as the result of a burglary. It was reported that a Private Evans had been committed to the Southgate prison for the offence of stealing beer from William Brown, at the Black Horse Inn. Several hogs heads of beer went missing over a period of several months. Evans, along with six accomplices carried the beer away in buckets, after lifting a door off its hinges. Evans was badly injured during his capture - his accomplices were later apprehended, but released through lack of evidence.
James Taylor was the landlord through the 1820s, and in 1830, a public apology was printed in the Flying Post by William Broomfield and William Piper for entering the premises after hours and assaulting Taylor.
Paul Collings
During most of the 19th century the licence was held by Paul Collings and other members of his family. Born around about 1798, in Spain, he became a soldier in the British Army and fought in the Peninsular War and accompanied an English officer as his servant at the Battle of Waterloo. Collings ended up in Plymouth before obtaining work at the New London Inn where he gained a high reputation working with horses. He left the New London Inn to become the innkeeper of the Black Horse. In 1836 he was presented with a floral jug as "A token of respect to Mr. Paul Collings for the invention of the self acting drag, by me who has found it, by experience to be of the greatest utility 1836". This was apparently a braking system for coaches and wagons descending hills. Ironically and tragically, Collings five year old son was killed outside the Black Horse in 1843, when he was knocked over by a coal cart, while crossing Longbrook Street. The inquest was reported in the Flying Post with the verdict of 'accidental death'.
Balloon over Exeter
In 1848, Collings witnessed the launch of the first balloon flight in Exeter from the Castle, followed the course of the balloon with a carriage, reached the landing point, and brought the aeronauts back to Exeter before it became dark. Paul Collins went on to own the Queen's Hotel in Queen Street. He died in 1868. See Paul Collings Biography. His son, Paul Junior took over the Black Horse until his own death in 1891.
Exeter Tramways
On 15th November 1881, the Exeter Tramways Co. Ltd. was formed at a meeting in the Black Horse. The promoters Bidder, Buckland and Moore met several local shareholders in the inn to agree plans to build and run a horse drawn tram service through the streets of Exeter. The first tram ran on 6th April 1882. Some trade directory and Flying Post entries for the Black Horse:
1780 - name not known - Spurrier Flashman
1804 - Black Horse - William Brown - Flying Post
1832/3 - Black Horse, Taylor, Jas., Longbrook Street - Pigot's
1844 - Black Horse Inn, Paul Collings - Pigot's
1878 - Black Horse, Paul Collings - this is Paul Junior - White's. Paul Collings is also listed as running the Black Horse tap in New North Road. His son ran the City Weigh Bridge adjacent. (a tap was a drinking place where you could only stand)
1895 - Black Horse Hotel, Jones, Samuel Collings, Mrs. S., - Besley's
1897 - Black Horse hotel, Mrs. S. Collings - Kelly's
1906 - Black Horse, Thompson, Mrs. A. S., 13, Longbrook street - Besley's
1923 - Black Horse, William Henry Whitehead, 13 Longbrook street Post Office
1956 - Black Horse (L. S. Sutton, propr.), 25 Longbrook st - Kelly's
1967 - BLACK HORSE HOTEL (THE) (Mr. & Mrs. A. J. Chown) (b, & b.; fully licensed), 25 Longbrook st. - Kelly's
The Black Horse Inn used to be much frequented by actors from the Theatre Royal, until it closed in 1962 - the theatre was just a few yards up Longbrook Street. The area around the Black Horse was the centre of early motoring in the late 19th and early 20th century in Exeter. A possible regular in the inn would have been William Shepherd, who ran an automobile workshop in Longbrook Terrace in the 1890's. He also owned the garage at the top of Longbrook Street which had Exeter's first petrol pump - the premises, below the King Billy's are still used as a tyre fitters. Sources - research made available to me by Steve Coombes. Discovering Exeter - Pennsylvania by Hazel Harvey. Exeter Trams - a Centenary Brochure, Exeter Flying Post, various trade directories. Special thanks to Shirley Collings Mc.Brien for the additional material about Paul Collings. Text and photo © 2005 David Cornforth