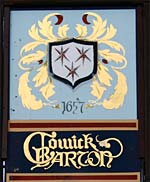 The site of the Cowick Barton can be traced back to the twelth century when it belonged to Cowick Priory.
Situated in Cowick Lane, St Thomas, the Cowick Barton occupies a mansion that dates from 1540. Built by Lord Russell, probably for his bailiff, the building has several interesting features. Constructed of Heavitree stone, in the classic, Elizabethan E layout, it has almost all of its stone mullioned windows surviving.
The house had a fine stained-glass window of Edward VI as Prince of Wales which can now be found in the Victoria and Albert Museum. There are some plaster reliefs, one of a nun caring for some children and one of a maiden with long hair, both standing on the head of an obese friar. One fireplace dated 1657 has the arms of the Baron family above it.
A Bible reference "I press towards the mark" is said to be a coded instruction for a priest hole. There is a trap door in the floor that leads to a cellar and passages that may have been the secret hideaway.
When the Earl of Bedford withdrew from Exeter to concentrate on draining the Fens, the house was sold in 1641 to the Pate family. On the death of Robert Pate, the house passed to his son in his will of 1677, with an annual payment of 20s to the poor, administered by his son and a minister, as thought fit. The house passed on to Mrs Prideaux through marriage, and then to her daughter, Mrs Speke. She left it to Mr James White who continued the habit of making an annual payment for a good cause, of 30s to keep a schoolmistress to instruct four poor children of St Thomas, in reading only. The tenant of Cowick Barton was also required to make an annual payment of sixpence to each of forty persons in the parish.
John White-Abbott (1763-1851), the water colourist the grandson of James, restored the house. The house passed through several families – in 1920, 75 acres of the attached agricultural estate was sold, and in 1963, a brewery purchased the house and turned it into a pub. For some unaccountable reason, the public house has become a favourite of believers in the supernatural, although the only spirits in the building are in the bottles behind the bar.
Sources: The History of the Suburbs of Exeter: With General Particulars By Charles Worthy, The report of the Commissioners concerning charities; containing that part ... By Commissioners for inquiry into charities