The Dolphin Inn, Preston Street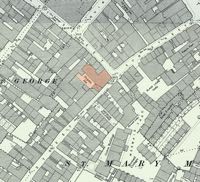 The Dolphin public house in Burnthouse Lane can be traced back through its old name the Dolphin, hundreds of years, to the West Quarter and Tudor times. The Dolphin Inn, which was situated on the corner of Preston Street and Market Street, belonged to the Courtenay's or the Guild of Merchant Venturers and was mentioned in a document in 1578. In 1663, the City Chamber granted to Anthony Makepowder a lease for 99 years, which stated that the property was then jointly part of a messuage in the parish of St Edmund, outside the West Gate.
Before it became an important carrier inn, it was, like the nearby Mermaid, often frequented by guests of a higher class. As trade increased into and out of the city, it became one of many inns that was used by carriers to collect and deliver goods from around Devon. For example, there was a Wednesday and Saturday service run by Abbot to Ashburton, while Frost & Co had a Saturday service to Bath, both from the Dolphin.
Pengelly's Gift
In 1700, the owner of the Dolphin, Francis Pengelly an Exeter apothecary, gave for charitable use the inn and two adjoining houses. The gift was not to commence until after the death of Joan, his wife. The inn remained unlet for a week in 1725 and was kept open by trustees–their records indicate that carriers from Moreton, Yeovil, Ashburton, Totnes and Okehampton stayed at the inn, with fifty-six pack horses at sixpence per night, per horse.The inn was sold in 1806 for £650. The money raised from the sale was invested and the return was divided between ten poor people, educated six or seven poor boys, and a sum given to the Devon and Exeter Hospital and to the poor prisoners in the city gaol at the Southgate.
The Dolphin was up for sale by auction at the Bear Inn in February 1801. In March 1844, it was for sale with "large Room, Bar, Tradesman's Room, 4 Parlours, 10 Bed Rooms, Kitchen Cellars, large Yard, Skittle Alley, Lock-up Warehouses.... and Granary." The next year, it was Boon's Dolphin Inn and it was hosting the Exeter Western Conservative Society. Thomas Upright, son of James Upright the owner of the City Mill, took on the Dolphin in 1857.
Ancient Order of Druids
The Ancient Order of Druids used the Dolphin for their meetings in the mid 1880s. The Isca Centenary Lodge, No., 672, met there in July 1883 to initiate six new honoury members. Citizens of substance belonged to the Druids, and in JAnuary 1884, Colonel Walrond, MP and the Sheriff of Exeter (Mr C T K Roberts) were initiated as members.
In 1873, James Coombes and George Clapp were sentenced to twenty-one days in prison for disorderly conduct and assaulting P C Knott at the Dolphin.
Some trade directory entries for the Dolphin Inn, West Quarter:
1816 - Dolphin public-house, preston street, Beal Elizabeth, Exeter Pocket Journal
1833 - Punchard, Si., dolphin pub h, preston st - Exeter Pocket Journal
1850/53/55/56 - Dolphin Inn, John Born, Market street, White's, Besley's and Trewman's
1858 - Upright, Thos., dolphin inn, market-st - Trewman's, Thomas Upright became the innkeeper of the Devonport Inn, 1861 census
1860 - R S Pidsley - Flying Post
1869 - J Price - Flying Post (from Mr Banks)
1871 - Parish, John, dolphin inn, market-street - Exeter Pocket Journal
1878 - Dolphin inn, Crocker Francis, vict, 20 Market Street - White's
1889/92/93/94 - Dolphin inn, Henry Pardon, 17 Market street, Exeter - Kelly's
1896 - Dolphin Inn, Pardon, Henry, 17 Market street - Post Office
1901 - Henry Pardon, Innkeeper, Eliza Pardon and a daughter - census return
1906/12/13 - Dolphin Inn, Brown, Frank William, 17 Market street - Besley's
1914/15/16 - Dolphin, John Kemp, 17 Market st, Exeter - Kelly's and Besley's
1919 - Dolphin P.H. Geo. Taverner, 17 Market street - Kelly's
1924 - Dolphin, Mathews, J. H. E., - transfer of license from Geo. Taverner - Exeter and Plymouth Gazette
1930 - Dolphin, Mathews, J. E. H., 17, Market St - Besley's
The Dolphin Inn, Burnthouse Lane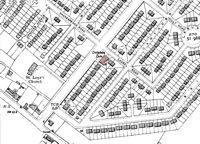 On 6 February 1931, Exeter magistrates granted the transfer of the licence from the Dolphin in Market Street to a new Dolphin public house in Burnthouse Lane, and the old premises were retired. The Dolphin Inn, Burnthouse Lane, was damaged by an air raid on 17 June 1941, along with a number of other properties in the area. The water main was badly damaged in Burnthouse Lane and a car with a loudspeaker was sent to inform the locals to boil all water for at least five minutes. The pub was renamed the Tap and Barrel in 1991, and after a time, became very run down. It closed for a while and reopened as the Dolphin Inn in 2006. Debra and Graham Densham, the present landlords, won the Community Pub of the Year for the Dolphin at the St Austell Brewery Estate Awards in 2010. It is very much a community pub for the residents of the Burnthouse Estate, and they offer karaoke nights, a pool table, dart board, fruit machines and a Juke box in the bar along with a beer garden in the summer.
1933 - Dolphin, Bauer, R. H., Burnt House La - Besley's
1956 - Dolphin Inn, Eric Turner, 31 Burnthouse la - Kelly's
1991 - became the Tap & Barrel
2005 - Tap & Barrel, Mr Graham Densham, landlord
2006 - Renamed Dolphin in February 2006
Source: Trade directories, Dymond's Inns and Taverns of Old Exeter and Census record and the Flying Post.