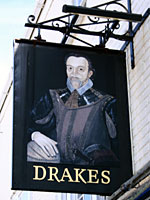 This establishment is located at 3 Fore Street, Topsham. Although Topsham has a quay side and a maritime history, I don't think that this establishment can claim any connection with Sir Francis, unlike the Ship Inn in Exeter. However, Topsham did supply three ships for the Armada, so Drake probably visited the port.
Tom and Tryphena
The present Drakes was variously known as the Western Union Hotel, the London and South Western, and also the South Western Tavern (1881). Dating from the 17th-century, it was run by Charles F Gale between 1870 (circa) and 1890. He was married to Tryphena Sparks, who was a cousin and close friend of Thomas Hardy, the novelist, between 1868 and 1870. Tryphena was born in Puddleton, Dorset in 1851. She and Hardy may have been engaged, although the evidence is inconclusive - the friendship was certainly romantic, although it rapidly cooled when Hardy met Emma Gifford in 1870. Hardy married Emma in 1874 and Tryphena married Gale in December 1877 at Plymouth.

By 1881 they had two children, two year old Eleanor, and one year old Charles, and other relations, servants and boarders living at the South Western Tavern. They had two more children, George and Herbert by her death, on 17 March 1890, from a rupture caused by childbirth.

Tryphena was well known in Topsham for working to improve the lot of local fishermen - at her funeral, her coffin was carried by some local fishermen to the graveside.
Hardy visits Topsham
Sometime after the funeral, Hardy cycled to Topsham with his brother Henry and visited the grave - he left a note on the grave saying "In loving memory - Tom Hardy". He was not given a warm welcome when he called on Charlie Gale to pay his respects. It was in the same year that Hardy started writing Jude the Obscure, with the character Sue Bridehead who may have been based on Tryphena Sparks. He certainly wrote of Tryphena in his poetry of which this is an extract:
Not a line of her writing have I,Not a thread of her hair,
No mark of her late time as dame in her dwelling, whereby
I may picture her there;
And in vain do I urge my unsight
To conceive my lost prize
At her close, whom I knew when her dreams were upbrimming with light,
And with laughter her eyes.
The couple had other business interests in the town and ran an antiques business from 4 Fore Street and also owned the Steam Packet situated near Topsham quay.

By the 1891 census, the widowed Gale was at 4 Fore Street and registered as 'Living on own means Market Gardener' with three children. Gale was still listed as living in Fore Street in 1923.

After Gale, the landlord of Drake's listed in Kelly's of 1897 was Frederick Thomas Rowe and in 1923 Edward Snow.

The pub hit the news a few years back when the Sunday Sport newspaper reported that the pub and all its clientele were transported into space - obviously there were lacing their drink with rocket fuel that night!
Source: Various sources including the Express & Echo, trade directories, census returns and Tryphena and Thomas Hardy by Miss Lois Deacon. © 2005 David Cornforth - not to be used without permission