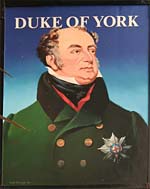 Situated on the corner of York Road and Sidwell Street, this public house is older than it looks. The area had significance to the Romans as they built a cemetery in the York Road, Wells Street area just behind the pub.
The earliest mention in the Flying Post of the Duke of York is a mention in an advert for the sale of a dwelling in July 1811. The first listing in a trade directory was in 1822 with H Land as the landlord. The earlier Acland Arms was on the opposite corner of York Road and was a coaching inn in the 18th century. When street numbering was introduced in Fore Street, The Duke of York was designated number 147 - around about the 1870's it became number 58.
This notice appeared in the Exeter and Plymouth Gazette in June 1847: "Wrestling.—A Grand Wrestling Match commenced in this city on Wednesday, in a field in St. Sidwell's, behind the Duke of York Inn. The play continued on Thursday with great spirit, and was resumed yesterday (Friday). The great contest is between Gundry (C.) and Chapple (D.), but many other crack players of both counties are engaged in the contest."
John Iley took on the Duke of York, along with his wife in July 1848, and applied for a license. The High Constable asked for references and a week later Iley appeared with testimonials from about a dozen people from Taunton, but not his previous employer – the license was granted on a temporary basis. In the August, an officer of the law, named Superintendent Steele, from Taunton arrived with a warrant for their arrest. When they arrested the couple, and searched the Duke of York, they found a large leather trunk full of items that belonged to their previous employer. It transpired that Mrs Iley was named Rogers and the pair were wanted for robbing their master the Rev. Dr Moysey of Bathalton, Somerset. The were committed to trial at the Somerset Assizes, found guilty and imprisoned for twelve months hard labour.
In the mid nineteenth century, St Sidwells was fast expanding, especially the Newtown area, and many public houses were used for sales of building land and dwellings.  One such sale was at the Duke of York in January 1867 when seven tenanted houses, all in Sandford Street were put up for sale.
The Duke of York was lucky to survive the blitz of May 1942. The Acland Arms was destroyed by fire, while most of the opposite side of Sidwell Street was also lost.
Now, the Duke of York is frequented by many locals, and visitors to the Odeon, just up the road. It also does well when Exeter City are playing at home. Some landlords from the trade directories:
1822 - Ht Land   
1844 - John Stoneman
1848 - Samuel Stump - transferred to John Iley - see above
1850 - John Crook 
1856 - W Davy
1859 - A Davey 
1878 - Thomas Lee - died May 1880 aged 42
1889 - Robert Baker
1894 - A J Callaway
1912 - Mrs F Andow 
1923 - Henry Middleweek
1956 - Horace Rice