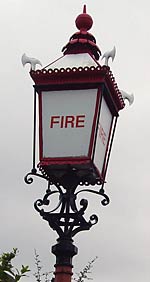 This was the original West of England Fire Insurance Company, Fire Brigade from 1834 to 1888. In 1878, the captain of the fire brigade was John Henry Zelley. Exeter gained a reputation as the 'fiery city' during the 19th Century. The building housed the stone-paved engine house and stabling for the horses. Stairs and a trap-door hoist led to two large workshops above. A trap-door in the ceiling of one gave access to the roof where there was a wooden platform, used for drying the hose. After the Theatre Royal burnt down with a loss of 186 lives in September 1887, ironically only 50m from the Fire House, the City purchased the building and took over the equipment of the various city insurance company services, opening the Exeter Municipal Fire Brigade.
From 1888 the Superintendent of Fire Brigade, was William Pett who had under him a chief officer, an engineer and 18 men.
The building appears to be on a very cramped site, but it originally had an exercise yard at the front, which was cut through when the New North Road was built. In 1931, the service moved up to Danes Castle and the Old Fire House was sold for £1,500. It was used for various purposes over the years, and during the Second World War it was used as an army recruitment office. From 1959 to the 1970's, the Co-operative Retail Services used the premises for a warehouse, followed for a short time by Miller & Lilley who ran a solid fuel order office. By 1986 the building was derelict, when it was refurbished.
The pub opened in 1986 and inside can be found original firemen's helmets. The sign does not look like a typical, traditional pub sign. It shows an early, horse-drawn fire carriage rushing to a call – the appliance that attended the Theatre Royal fire, and was originally housed in the fire-station was put on display in Finance House in Barnfield Road, in what was the Commercial Union building before it amalgamated. The twin gate posts outside the Fire House once held large fire lamps, one of which erected outside the Brigade's Danes Castle fire house in 1967.