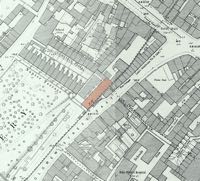 It is thought that parts of this building date from the 16th-century. In the 19th-century it belonged to W J Richards, who was a partner in Harding, Richards & Thomas who became a public company in 1889, as the St Anne's Well Brewery Company Ltd. Thus, the malthouse had a ready outlet to the brewery situated at the bottom of the valley, beneath the Ironbridge. A malthouse processes barley by allowing it to germinate on a warm floor and then drying it in a kiln. The original malt house chimney still exists and gives the building a striking appearance on the city wall, next to the old North Gate. The kiln was manufactured by H J H King & Company of Nailsworth and is still in situ, in the building. Other parts of the building have been removed to the Royal Albert Memorial Museum in Queen Street.
The Pottery
In 1891 a small craft pottery was run from the premises by Messrs. Cole and Trelease. Managed by William Hart, it employed from 1893 Alfred Moist as the main wheel potter. Moist had formerly worked at the Bovey Tracey Pottery. The pottery also had works in Bonhay Road where amateur potters could obtain their supplies. Decorative pots from the workshop were stamped 'Made at the Exeter Art Pottery' along with Exeter's three-towered castle. The pottery closed in 1896 and Hart and Moist went on to run the Devon Art Pottery in Haven Road.
The malthouse closed around about 1966/7 (it was still listed in Kelly's in 1967) and was then used for a time as a pottery and it was considered as a possible small museum or visitor centre about brewing. However, the building was purchased by John Pring who opened it as The Old Malthouse restaurant in partnership with Jim Kennedy and D Stephenson. They opened with the Devon Arts and Crafts Display Centre, combined with the restaurant, so that diners could eat, and then purchase the pictures hanging on the wall. The restaurant was expanded in 1978 and a larger kitchen added. In 1982, a Mr Townsend, the owner of the Fisherman's Cot at Bickleigh briefly owned the business. Then in 1986, an Italian, Ciro Vecci purchased the restaurant and opened with the name 'Ginos'. His restaurant proved to be popular and continues to serve food under a new owner. The food is, as the name suggests, Italian although there is a good range of seafood available.
Since I researched the above, the restaurant became Nico's, and then Zito's Bar and Restaurant, part of a chain registered in Brighton. Other restauarants in Exeter that are part of the same group include, Taste, Waikiki and Rosti.

Some trade entries for the malthouse.
1889 - St Anne's Well Brewery Co. Ltd, maltsters - Kelly's
1956 - St Anne's Well Brewery (malthouse) - Kelly's
1967 - St Anne's Well Brewery (malthouse) - Kelly's
2005 - Gino's Restaurant, Mrs R White (manager), 6 staff
2018 - Zito's Bar and Restaurant (registered in Brighton)