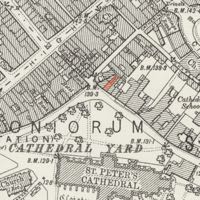 Dating from 1530, Tea on the Green next to Mol's Coffee House, is part of one of the most attractive, and historic group of buildings in Exeter.

It was part of a complex built by the Cathedral Authorities to house 'Annuellars', or priests. Annuellars would attend the last wishes of benefactors to the Cathedral. They would perform duties requested by the deceased, visit and comfort relatives and keep a candle lit in remembrance. The Reformation of the 1530s saw these practices abandoned and the buildings housing the priests were mostly turned into tenements.
It is a three storey timber-framed structure, with a gabled front. The first and second floors have oriel windows opening towards the Cathedral, with Georgian style sash windows. The front was heavily altered in 1970, when the top oriel was added. See the two photos to compare.
Social history
John Trickey occupied the premises as a boot maker from about 1866 to the end of the century. Trickey was declared bankrupt in 1862, but somehow managed to recover from the setback and set up in business at 2 Cathedral Yard. Trickey was from a line of  Culmstock shoemakers.
His father, James, appeared as a character in the R D Blackmore novel Christowel – the novel was set on Dartmoor and Blackmore was well known for basing his characters on real people – three of his sisters worked for the Blackmore family. There is a memorial to Blackmore in the Cathedral. In 1875, John Trickey took premises at 88 Queen Street for his retail trade, but continued to live at 2 The Close and use the premises for manufacturing shoes. He died in February 1898.
There were a couple of servant registries, the equivalent of a modern employment agency in an upper room in the building. This advert is from 1910.
CATHEDRAL REGSITRY, 2, CATHEDRAL CLOSE, Exeter. No fee till engaged. Numbers of Respectable Servants, all kinds, always wanted. No hotels, Stamped envelope.

Some occupiers of No 2 the Close:
1846 - Mr Gove - dentist
1850 - Public Library
1862 to 1863 - Tucker's Old Curiosity Shop
   Exeter and Exmouth Railway - company office
1864 to 1866 - John Clench, stock and share broker
1866 to 1898 - John Trickey, bootmaker
1902 to 1923 - Ashman's Servants Registry Office
1935 to 1955 - Irene the Costumiers
1959 to 1967 - Duffill's Restaurant
1972 - Nicholson's Restaurant
1982 - Hanson's Tea House
The photo shows 2 Cathedral Close around about 1900 when it was Ashmans Servants Registry Office – the name board for John Trickey, bootmaker is still in place. From 1959 to the present, it has been a succession of restaurants and tea shops.
Source: Various trade directories including Kelly's and Whites. Photo and information on John Trickey courtesy of Paul Graham. Historic England.