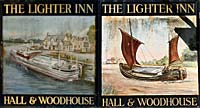 This inn takes its name from the lighter, a flat bottomed boat used at Topsham to unload larger ships that had to anchor in the middle of the channel. Until 1958, the quay by the Lighter was still served by a railway siding, and the area not so developed for tourism.
The earliest reference I have found to the Lighter was this crime report in the Devonshire Chronicle & Exeter News of February 1832.
"Mrs Perriam, of the Lighter public house, Topsham, was fined 1s for allowing tippling in her house, from which arose the row we stated in our last."
In the previous issue, they reported that five were fined at Topsham a total of 16 shillings for assaulting a Mr Jones on the Quay.
Gutted by fire
On 4 May 1971 the inn was gutted by fire. The headline in the Express & Echo was "10 escape as blaze sweeps Exeter inn". The article went on to say " The fire started at dawn and swiftly spread to the roof timbers of the historic building—one of the oldest in Topsham......Smoke from the fire could be seen at a distance and roof tiles burst and scattered....". The inn was restored and has since passed through various owners.

The Lighter Inn has been listed in several Exeter directories over the years.
1844 - Lighter, Thomas Stancombe, Strand - Pigot's
1878 - Salisbury Mrs Ann W. victualler, Lighter Inn, Quay - White's Directory
1897 - Lighter inn, William Voysey, Quay, Topsham, Exeter - Kelly's
1919-23 - Lighter inn, Eli Pring - Kelly's and the Post Office
1971 - Lighter Inn, Alan Winmill - Express & Echo