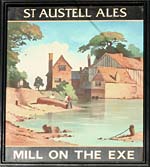 This pub and restaurant occupies part of a former paper mill that was located just below Blackaller Weir. There had been a fulling mill for processing wool from at least the middle of the 16th century on this spot. It was let in 1787 for milling corn and then in 1798, one Edward Pim started paper making on the premises. Edward Pim was related to the Pim family who ran an extensive range of paper and grist mills at Barford and Bramshott, near Hindhead in Surrey between 1738 and 1832.
Pim was however bankrupt by May 1814 according to the Flying Post and the following appeared "To be sold ... All those extensive paper mills, capable of working 8 vats at one time, in which the paper manufactory has for many years been carried on by Messrs. Pims ... situated near Engine Bridge".

In Coldridge's survey of 1818/19, it was noted as 'Mr Pim's Paper Mills and Grist Mills'. It was quite common for mills to engage in other activities, probably at slack periods, and it was relatively easily for the machinery to be converted from milling corn, to milling bone or manganese, make paper or process wool. Head Weir Mill does appear to have mostly made paper, with possibly some corn milling. In the 1822/3 Pigot's, Robert Thomas is listed as a paper maker at Head Weir while Joseph Ratcliffe is listed as a miller.

Paper production was by Tremlett & Harris from about 1832, with the Tremlett family continuing to make paper at Head Weir until after the First World War. Charles Harris and his partner Edward Norish Tremlett invented a new process of production in 1836. The partnership was dissolved in 1844 with Harris moving to the Countess Weir Mill.
Edward Tremlett, was succeeded by William Tremlett who was reported as employing nine men. One woman employed at the mill was Sarah Chapman aged 94, and who is described as "assistant at paper mill". Paper mill workers were often forced to live in the most overcrowded and insanitary areas of the city, with the Head Weir Mill drawing much of its labour from Exe Street; in 1851 nine paper workers lived in Exe Street. Strangely, these areas had a lower mortality rate than other parts of the city, which has been put down to the abundant fresh water available at the leats by the mills. Head Weir Mill drew its water directly from its own intake from Blackaller Weir which would have been untainted by effluent from the Longbrook that flowed into the Upper Leat just next to Head Weir Mill. 
In June 1851, a House of Commons report noted that the mill had four working beating engines and one idle; 'Hollander' beating engines were used to separate the cellulose fibres in the rags to produce pulp. Only the paper mill at Trews Weir had more of these engines with six.
Fire and rebuilding
In 1882, the mill was badly damaged by fire requiring the building to be reconstructed out of brick, and the addition of a small Robey steam turbine which powered the mill when the water level was low. At the same time, a set of drying cylinders manufactured by Bentley and Johnson were installed. Just after the First World War, the mill was then taken over by E S & A Robinson of Bristol.
Much of the raw material for paper production was from recycled waste paper and rag imported from overseas. Before the mill closed in July 1967, it was producing 50 tons of paper per week for tickets, sugar paper and laminating. In 1982 the mill was demolished and Mill on the Exe reconstructed on the site in 1983.

It is common to think that the pub inhabits part of the old mill buildings, but the photograph of the partly demolished mill shows quite clearly that the Mill on the Exe is largely a reconstruction. It is also apparent that much of the car park was mill-building before levelling. The lower floors of the pub suffer from intermittent flooding, even after the flood prevention scheme through Exwick was installed - that last flooding was in October 2000, when the Mill on the Exe was forced to close for a time to recover. In time of flood, Blackaller Weir is a most impressive site, just below the car park, and you may even see the flash of a salmon as it fights its way up the river to spawn on Exmoor.