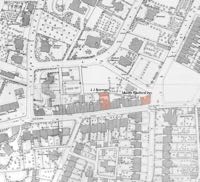 There is evidence of a predecessor to the Mount Radford Inn called the Mount Radford Arms in Magdalen Street. This notice appeared in the Flying Post on 23 December 1836:
"Lot 2. - All that very excellent Public House and Premises called the MOUNT RADFORD ARMS, situate in Magdalen street, in the City of Exeter, and now in the occupation of John Mitchell, for a Term determinable at Lady-day 1840."
The notice went on to state that the inn had a good custom. The premises possessed a brewhouse, along with a skittle alley, attached buildings and grounds.
The only other entry in the Flying Post is this sad little death notice in 1878:
"APRIL 5, at Mount Radford Inn, Exeter, EDGAR, Infant son of Mr. J. H. Warren"
In 1850 the New Mount Radford is mentioned for the first time in White's Devonshire Directory. This is not the same building as the Mount Radford Arms, which was in Magdalen Street. However, whether the Mount Radford Inn between 1850 and 1881 is the same premises as the later public house is in doubt. Not only has the street numbering changed (which is quite common), but more importantly, the list of households in the 1881 census for Magdalen Road indicates that 15 Magdalen Road is in the middle of a row of households, rather than on the corner.
Here is a list of trade directory and Flying Post entries:
1836 - Mount Radford Arms - John Mitchell - for sale notice
1850 - New Mount Radford inn, Humphry Ley, Magdalen road - White's. Humphry Ley died in June 1857, Mary Ley below was his wife
1861 - Mary Ley, widow, innkeeper at 15 Magdalen Road - census return
1871 - Ley. M., mount radford p.h.., magdalen-rd - Pocket Journal, Mary Ley, widow, 69 according to census return, Grandson 8, and grandaughter 7 in residence.
1878 - Mount Radford Inn, Joseph H, Warren, 15, Magdalen road, Exeter
1881 - Mount Radford Inn, Joseph H Warren - census return
1889 - Mount Radford Inn, James John Norman, Magdalen Road - Kelly's
1891 - Mount Radford Inn, John H Rawling 49, inn keepers deputy Mary, two children and a barman - census return
1897 - Mount Radford inn, J. J. Norman, 71 Magdalen rd. Exeter - Kelly's
1923 - Mount Radford inn, J. J., Norman, 71, Magdalen rd, Exetr - Post Office
1934 - Mount Radford, Sutton, F. H., Magdalen rd - Besley's
1956 - Mount Radford, Mrs. L. S. Sutton, Magdalen rd - Kelly's
1967 - Norman JJ & Ellery Ltd, est 1672 - wine & spirit importers and merchants - Kelly's
2005 - Mount Radford, Mrs S Luck, landlady
In the late 19th-century, James John Norman was the registered innkeeper of the Mount Radford Inn. He also ran a grocery store, now the Spar Shop, at 7 Magdalen Road and was an active member of the City Council.
In a hearing about the renewal of his licence in 1891, Norman gave evidence to support his claim in the face of local opposition. He stated that the Mount Radford had been licenced for 50 years, and that he held 1,000 gallons of one particular spirit on the premises as well as holding a contract for the regular supply of 200 dozen bottles of wine.
The Mount Radford was fortunate to have a cab stand and public lavatory right outside, on a scrap of land on the corner of College and Spicer Road. The cab stand will have brought extra business to the public house, and been useful for customers who didn't want to walk home.
The wine and spirit business of J J Norman was by the 1950's known as Norman J J & Ellery (now part of the Whitbread Group). They claimed to have been in existence since 1672. In 1956 the directory lists the Mount Radford Inn and Norman J J & Ellery running from 71 Magdalen Road. It would appear as though the Mount Radford Inn closed and ran only as a wine and spirit merchants for a time. It certainly had a refurbishment in the 1980's when it reopened, and is now a Greene King establishment.
The shop next to the Mount Radford was a chemist in 1897 - it is still a chemist and trades as Lloyds Pharmacy, almost 110 years later.
Source: Trewman's Exeter Flying Post and the trade directories.