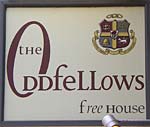 This public house is one that many often pass without noticing. Situated opposite the Old Fire House, and just beneath Northernhay Park it is located at the end of a block of seven terraces built in the 1840's and named Albert Terrace, after Prince Albert.

It is not known when the Oddfellows' public house was established. The earliest reference can be found in 1862 when William Nosworthy, the landlord from the Oddfellows' Arms was married. It is certain that it was named the Oddfellows' Arms, after the Oddfellows Friendly Society that had previously occupied the premises. The Society was first established in Exeter during 1845 and there is an Oddfellows Hall next to St Martins Church in Catherine Street. Oddfellows Friendly Societies were established in the 18th century to help working men and women - they were a sort of working man's Freemasons, but without the secrecy. 
Some landlords of the Oddfellows:
1871 - Norsworthy, W., odd-fellows' arms p.h.., new north-road
1878 - Abraham Waldron - White's
1883 to 1897 - Oddfellows Arms - Daniel Jackman - Kelly's
1856 - Basil K Commins
Daniel Jackman was lucky not to lose his license in 1883, having being caught for selling out of hours. He was issued with an occasional license for the Royal Public Rooms in March 1892. It was in the mid-1990's that the pub was renamed The Gate and opened as Exeter's first and only cider bar. Then The Gate closed and it became an Irish theme pub named Molloys. In early 2000 there was another rename to the quirky Thirsty Camel. The present landlord has returned its name to the traditional Oddfellows'.
   
Oddfellows made the newspapers in November 1988, when Michelle Gavin, who was expecting twins at the time lost her flat and possessions in a fire in Sidwell Street. The landlord of Oddfellows heard of her plight, and raised money to help her by charging customers 50 pence to make a hand print on a newly painted white ceiling.
Source: Flying Post and trade directories