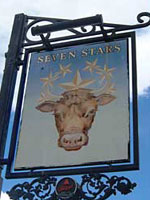 The modern Seven Stars Inn on the Alphington Road, opposite the retail park at Marsh Barton surprisingly, has a very long history. The first Seven Stars Inn dates from at least the 16th century. It was situated on the river bank, close to the old Exe Bridge in Okehampton Street, St Thomas. The roadway of the modern Exe Bridge roundabout runs over the site of the inn.
It is documented that George Fox, an early Quaker, preached here in 1657. He wrote:
"We then travelled on till we came to Exeter; and at the sign of the Seven Stars, an inn at the bridge foot, had a general meeting of Friends out of Cornwall and Devonshire".
The First Theatre
It was on 2nd October 1721 that an upper room at the Seven Stars, now with Matthew Atkinson as the landlord, was used as a regular theatre venue - the first in the city. Punch's Theatre performed:
"... many wonderful Fancies as dancing with swords by a little girl but ten years old, who turns many 100 times round with so swift a motion that it's scarce possible to distinguish her Face from the hinder part of her head."
In 1725 Brice's Weekly published this advert for a return appearance for the girl, who appears not to have aged:
"Advert, of Punch's Theatre at the 7 Stars St. Thos. Plays by artificial actors also legerdemain & a tumbling girl, 10 years old."
Legerdemain meant a sleight of hand, so the show incorporated a magician.
The venue became more successful, for on 15th November 1728, John Gay's Beggars Opera was performed there, just months after the first performance Theatre Royal, London. It was in 1735 that Exeter's first purpose built theatre was built in Waterbeer Street, and the thespians vacated the Seven Stars. It is not known when the inn ceased theatrical performances, but there is one reference in a playbill dated November 1786 to the New Theatre, Bridge End, St Thomas.
Flooding
There was also a mention of the Seven Stars in the Midsummer Sessions of 1726, when two men who were supervisors, were charged with allowing the highway...
"...to be ruinous and in decay, by reason whereof ye River Ex did overflow the Highway and for permitting ye Comon Highway between the seven stars and the Tenements called the Barton of Hayes containing about 30 peirches to be so ruinous and in decay for want of repairacon that ye Kings Subjects cannot go pass and repass that way without danger of their lives".
Flooding was not uncommon, as witnessed in 1960 when St Thomas was engulfed twice.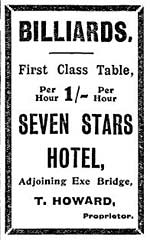 Advert circa 1910
The landlord in 1857 was Thomas Hex who had previously run the Plymouth Inn in Alphington Street. The stone mason and fledgeling artist, William Widgery exhibited some Landseer copies at Hex's public house and encouraged by Hex who recognised his talent, gave up his day job to become a professional artist. Widgery's son F J also became a successful artist, and was Mayor of the city in 1903.
Destroyed by Bombing
The freehold was purchased by the City Brewery in 1889. By the 20th century, the Seven Stars was a popular pub - it was on a tram route into the city and just over the bridge from the Cattle Market. Many workers from Willey's would have called in for a drink on their way home from a shift. Although the site was purchased by the City Council in 1931 for road widening, the business was sold in 1933 to Randalls for £8,000. Part of the premises were demolished for the road widening, but the adjacent building remained as licensed premises.
In February 1940, at a licensing committee, it was noted that the Seven Stars was "only a make shift hotel, and it was a moot point whether it was structurally fit for the purpose of an hotel". (Exeter and Plymouth Gazette) However, on 4th May 1942, 11 properties in Okehampton Street, including the Seven Stars Hotel was destroyed by a German raid.
The Stars Shine Again
The Bonhay Cattle Market closed and moved to a site on the Alphington Road, opposite Stone Lane, at the entrance to what would become Marsh Barton in November 1939.
In July 1938, when the City Council were negotiating to move the Bonhay Cattle Market out to the city boundary, opposite Stone Lane, they agreed to purchase ¾ of an acre of land from Mr Physick, and sell it on to Carr and Quick, licensee of the Seven Stars Hotel. The license would then be transferred to new premises on the land. No progress was made by February 1940, due to the outbreak of war.
It was in 1965 that a pub named the Seven Stars was opened opposite the new cattle market at Stone Lane. Les Havill, was the first landlord, who managed it on behalf of Bass & Co. until November 1967
The cattle market has closed to be replaced by the Stone Lane Retail Park in the 1980s, but the Seven Stars remains - it was refurbished in March 2003 and now offers an extensive food menu.
Some landlords listed in the trade directories are:
1822 - Wood, Wm: Tavern/Inn (Seven Stars) - Pigot's
1850 - Seven Stars' Inn, Mrs. Bragg, Okehampton road - White's
1857 - Hex T., seven stars inn, okehampton st - Exeter Directory
1859 - Hex T., seven stars inn, okehampton st - Exeter Directory
1878 - Southwood William, vict, Seven Stars, Okehampton street -
1889 - Seven Stars hotel, William Henry Hattin, Okehampton st, St Thomas, Exeter
1906 - Seven Stars, Howard, T., Okehampton street, St Thomas - Besley's
1913 - Seven Stars, Howard, T., Okehampton st, St Thomas - Besley's
1914 - Seven Stars, Howard, T., Okehampton st - Besley's
1916 - Seven Stars, Howard, T., Okehampton st - Besley's
1919 - Howard Thomas, Seven Stars hotel, Okehampton street, St Thomas - Kelly's
1923 - Seven Stars hotel, Thomas Howard, Okehampton street, St Thomas, Exeter - Kelly's
1956 - not listed
1965 - Seven Stars, Alphington rd, Les Havill the first landlord until 1967.
Source: Various trade directories, website Journal of George Fox, Northcott Theatre website, Brices' Weekly, West Country Studies Library, Art in Devonshire by George Pycroft, Cavalcade by Candlelight by Eric Delderfield. Photo of the Seven Stars sign by Sean Creech.