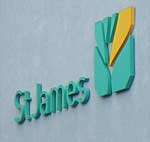 The modern St James School in Summer Lane, Whipton, is situated just under two miles from its original location at St James' Road, next to the Exeter City football ground in St Sidwells.
In 1844, a National School was established at the back of Exeter's, St James Church. In 1871, a school for 150 infants was built at the front of the National School for the cost of £1,218. In 1874, the infant school became a Board School, to exist in this form until 1906. October 1907, saw a new school built for 300 infants and 260 girls on the site of the demolished infant school. The National School for Boys was closed in 1929.

In 1927 the school became St James School, a senior school for girls. It narrowly avoided being destroyed in the May 1942 blitz, although the old St James' Church close by was destroyed. In April 1945 its name was changed to the Girls' Secondary Modern School. The school remained on the old National School site until 1961, and was then transferred to a new, greenfield site in Beacon Lane.

Meanwhile, the Ladysmith Secondary School for Boys was closed in 1973, and amalgamated with the Girls' Secondary Modern School at the Beacon Heath site. Thus, St James High School came into being as a comprehensive school. In common with all the other secondary schools in Exeter, St James' was rebuilt on its site during 2004 to 2005, under the PFI scheme. When it opened in the new premises, it became part of the new, for Exeter, 11 to 16 system, specialising in maths and computing. It was formally renamed St James in 2005, and the new school opened in March 2006.

The catchment area of the modern school includes Beacon Heath, Whipton, Stoke Hill, Mincinglake and, bizarrely, in a time of concern about travel and the environment, other more distant parts of Exeter including Exwick.