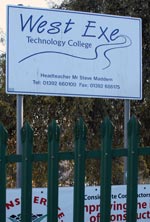 The history of what appears to be one of Exeter's newer schools is quite complex and involves the merging of a whole range of Victorian schools in St Thomas, Exwick and Redhills. Two such schools were the National School at the end of Cowick Street and Barton Road, for boys, and one adjacent to Emmanuel Church in Okehampton Road, which dates from 1889, for infants and girls. In Victorian times, the school leaving age was fourteen so a child would often attend the same school through his or her school life. These two schools were the result of many amalgamations themselves.

In 1900, St Thomas became part of the city and its schools were transferred to the Exeter School Board. The Cowick Street Boys school was moved to a new site at the bottom of Dunsford Road, and the Cowick Street premises remained unused for several years. In 1917, the Okehampton Road Girls and Infants was destroyed by fire - the fire service was hampered in its attempts to douse the blaze because the River Exe was frozen over at the time. In 1921, the Dunsford Road Boys School was renamed the John Stocker School after the chairman of the Education Board, who had just retired after fifty years.

Another reorganisation in 1930, created the John Stocker Senior Boys and John Stocker Junior Boys, both at Dunsford Road; the St Thomas Senior Girls' in Union Street, the Montgomery Junior Girls' and Infants, the St Thomas Infants, Union Street and the Cowick St Infants in the reopened Cowick Street site.

In 1967, the John Stocker Secondary School was created and took over both the Junior and Senior Schools, and called the Boys' Secondary Modern School. Then in 1972, the Boys' Secondary Modern School amalgamated with the Girls Secondary Modern School which occupied a new site at Cowick Lane to create a new comprehensive high school. In 1973 the Boys' Secondary Modern School joined the girls at the Cowick Lane site, after some additional classrooms and other facilities were completed, and St Thomas High School was finally in existence.

The school has since been renamed West Exe Technology College. A completely new school was built on the playing fields (2004/5) ready for Exeter's secondary school system changing to an 11 to 16 system.