Join the Exeter Memories
Group Page
Allhallows Court and Churchyard
Page updated 17 September 2008

This open park area marks the former church and burial yard of Allhallows-on-the-Wall. The city wall runs along one side, while two sides are bounded by Bartholomew Street West.

The area was known as Friernhay, after eight Franciscan monks built a friary in the early 13th-century. They moved to a site outside of the city in 1300. On St Bartholomew's Day 1637, the site was consecrated as a burial ground after Cathedral Yard was becoming dangerously full.

The original Allhallows-on-the-Wall church was situated at the bottom of Fore Street and was badly damaged by the Parliamentarians during the Civil War. Left derelict, it was eventually demolished to make way for New Bridge Street in 1770. A new Allhallows Church in the popular decorated Gothic style, was built in Bartholomew Yard in 1843 to a John Hayward design. In 1931 it was deconsecrated, and it became a corset factory and during the war it was used for making parachutes. The church was demolished in 1951, leaving a rather lovely green space, just above the city wall and the Catacombs.

Allhallows Court is a small court of apartments at the south west end of the old churchyard, opposite the former rear entrance of the Wheaton's printing works. These houses along with the Baptist Church and the houses running along the top of the city wall, and around the Snail Tower occupy the western part of the original burial ground.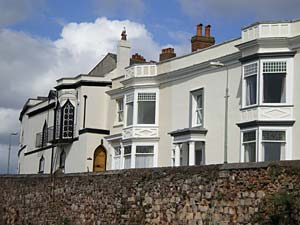 The houses on the corner of the wall by the site of the Snail Tower.<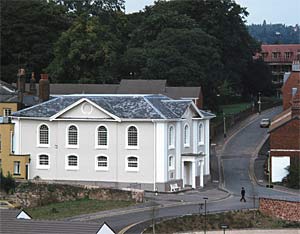 Allhallows area - the Court is on the far side of the chapel.
│ Top of Page │