Join the Exeter Memories
Group Page
Barbican Steps, City Wall
Page updated 25 November 2008

These steps in the corner of Allhallows Churchyard punch through the city wall and lead down to Exe Street and Bonhay Road, near the Mill on the Exe. A barbican is an opening in a wall, or a stronghold. The steps emerge into the lane on the other side of the wall. The steps were also known in the 19th-century as the 'Island Steps'.

Further along the wall to the west was the Snail Tower, which was a 13th-century defensive tower, demolished in 1810. Along the wall to the east can be found the early Victorian Catacombs and the city wall below, the Lower Cemetery opened in 1834. Gravestones from the former graveyard can be found in the cemetery, leaning against the wall on the left, in the top photo.
The terrace at the bottom of the steps is West View Terrace. William Hart of the Exeter Art Pottery lived at no 8 in the 1890's, very close to the pottery in Bonhay Road. Below the terrace there was a council yard in the triangle between the Barbican Steps and the leat that ran next to Bonhay Road.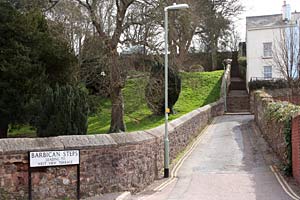 The area to the right of the lane contained West View Terrace and a council yard.
│ Top of Page │