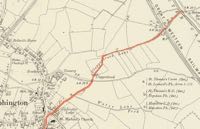 This lane, which is part of Exeter's Green Circle walker's route runs from the centre of Alphington, in front of the church to the River Exe, just below St James' Weir. Probably dating from well before mediaeval times, providing a route that skirted south of the city for travellers to Plymouth; a piece of Romano-British pottery was found during excavations in the lane during 1996. There have been traces of mediaeval strip fields next to the lane, along with small rectangular plots that indicate a settlement.
The Chudleigh Road into Alphington from Plymouth actually runs in a curve around the church and into Clapperbrook Lane indicating that this was once the pre-eminent route. A plan by James Green in 1819 names it Water Lane and a later map from 1842 it has become Watery Lane. The first reference in the Flying Post to Clapper Brook Lane was in August 1866 when two cottages in the lane, near the church, were auctioned at the Admiral Vernon. The lane crossed a clapperbrook bridge that carried the lane across the Alphingbrook. Clapperbrook bridges are simple affairs consisting of stone piers bridged by large, flat stone, slabs. They are common on Dartmoor with a fine example at Postbridge between Moretonhampstead and Princetown. Since the Alphingbrook was channelled to reduce flooding in the 1960s, Clapperbrook no longer crosses the stream but skirts to the south. There was a small pasture known as Clapperbrook field in 1815 indicating the existing use of the name in the area.
After the lane crossed the Alphingbrook, it crossed what was the marsh land of Marsh Barton, and approached the Plymouth railway line, where the modern lane re-unites with the line of the ancient track at Alphingbrook Road. The lane crosses the railway line over a narrow bridge known to many as the way to the Double Locks Hotel. It crosses the canal at the Salmon Pool swing bridge and skirts the end of the playing fields to St James' Weir, where Clapperbrook ends.
The crossing which was just below the weir was by ferry, although back in the mists of time, before the weir was built, the river was forded at Madford (Matford), just above the weir. Travellers then followed the line of Barrack and Polsloe Road towards Stoke Hill. It is known that this route may date back to the iron-age, indicating that Clapperbrook Lane may have been part of a very ancient system of communication.
In May and June 1815, a pasture of 3 acres, called Fursdon, in Watery Lane was for sale with Thomas Loram the tenant. By AUgust 1818 it was for sale again with John and Jane Stone the tenants in occupation.