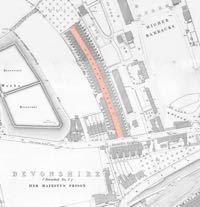 This name comes from the Hoopern Valley that carries the Taddiford Brook down from Pennsylvania to enter the Exe at Taddiford. The name is derived from the land where the barrels were made and can be traced back to 1225. The Hoopern Valley was part of the Duryard royal hunting ground, was heavily wooded, which may have given a good source of timber for barrel making.
Before the building of Hoopern Street, the only reference to Hoopern in Exeter in the trade directories was to private houses with Hoopern House, home of Mark Kennaway, Hoopern Villas and to Lower and Higher Hoopern Farms. Hoopern Fields became home to the Isca Cricket Club in the 19th-Century. In February 1858, Mr Bastin a farmer at Hoopern had a wagon load of turnip tops stolen from his field. About an acre was cleared by a large party of people. John Clampitt and Sarah Roach were detained and received 21 days hard labour.
In 1882, approval was given for an area north of Exeter Prison known as Gaol Field to be developed as a 28 ft wide street of housing for a class 'much required in Exeter'. This was a time when housing for the burgeoning artisan classes was needed, with the development of the railways and other services. Building work on what would become Hoopern Street must have started by 1884. The new street was probably built in phases, starting at the lower end of the street, for the school foundation stone was laid on 22 July 1884, on a site at the top of the first block of houses. The remaining houses on that side followed later.
The First Householders
In the 1889 Kelly's Directory only number 1 and 77 are listed. It is likely that the street was completed around 1884/5 as Kelly's had a habit of listing only the shops and school.
Besley's Directory of 1894 show 20 properties containing railway workers, ranging from porters, signalmen, shunters and engine drivers. Number 1 and 77 are a shopkeeper and grocer respectively - they are still shops, one a convenience store and the other a hairdresser.
In the years up to about 1890 there were at least five births announced to addresses in Hoopern Street, no marriages and no deaths, indicating the young couples occupying the newly built houses.
The school
The Hoopern Street Voluntary School for infants and young girls was opened by the Vicar of St David's the Rev. J T Toye in October 1884, and the first headmistress was Miss Louisa Elizabeth Bovey. It was the third of the Exeter National Schools in St David's, and was built to supplement what would become St David's Church of England School in Dinham Road. By 1919, the school, which had been attended by W G Hoskins the historian, was listed as St David's School for Girls' and Infants' run by Miss N G Gorley for 121 children. The school was the venue for a concert by the St David's Orchestral Band in December 1889. They performed such classical compositions as 'Erin on the Rhine', and 'Tarantura' to a large audience. The orchestra consisted of men from the Volunteers and the Post-Office. Hoopern Street School continued until 1933 when it closed on the 3 August as unfit for purpose. The building has been used as an electrical engineers for the last few years. The other musical delight for those in Hoopern Street was the weekly open-air meetings held by the Salvation Army at number 2.
The football teams
Hoopern Street appears to have two football teams in the Association League in 1913. Hoopern Street United drew 3-3 with St James United and Hoopern Street Rovers were beaten 4-3 by Claremont in August 1913. By 1921, there appears to have been only one team named Hoopern Street who must have been struggling, for when the played Barrack Rovers, they lost 17-3.
In the 1914 Kelly's there were still 20 railway workers along with a musician, a chauffeur and Ernest Alfred Preedy a professional cricketer living in the street! In the same year, the rent for houses in Hoopern Street was £12 per year, about £2 less than similar houses in Newtown. During the First War, Mrs Rawle, a widow, of No 56 had eight sons serving in the forces, three of whom were in France. One of her sons, Private Reginald Llewelyn Rawle, of the Royal Army Ordnance Corps appears on the roll of honour, having died on 17 February 1919, aged 31.
Other men from Hoopern Street who died in the conflict are:
Sapper E Mellhuish, Royal Engineers, died 22 February 1916.
Ship's Steward Assistant, George Edward Hawkins, H.M.S. "Bulwark." died 26 November 1914. Age 25.
Private, Richard Voaden, Devonshire Regiment. 3 September 1916. Age 31.
The Diamond Wedding
In March 1935, Mr and Mrs S Galliford of 64 Hoopern Street celebrated their Diamond Wedding. They married at High Bickington in 1878 at the age of 22. Mr Galliford worked for the London and South Western Railway from 1878, retiring at the age of 69. Mrs Galliford stated ".. was work, and bed, and church on Sundays, and nothing else in those times... I never had twelve months' schooling my life, and husband had less. didn't learn to write until after we were married, and only made his cross on our marriage certificate." Mrs. Galliford has only seen one film in her life, when her grandson urged her to accompany him, and was not greatly impressed. Neither she nor her husband ever visited a theatre.
Number 2 Hoopern Street became a Town Sub-Post and Money Order Office. From before 1912 it was run by Mr Albert Morgan and later, his son Horace Albert, until his own retirement in February 1973. The shop was sold, and the inevitable change to a convenience store battling the growth of the super-markets occurred.
Sources: Local newspapers from the British Newspaper Archive. The Morgan family.