Join the Exeter Memories
Group Page
Exeter Airport - photos
Page Updated 17th December 2012
Also see
The Great 1911 Air Race
Exeter Airport History
Exeter Air Day 1977 film
Haldon Aerodrome 1930 film (very rare)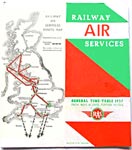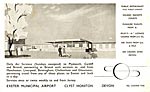 The Railway Air Services Haldon service and a 1936 Flyer
From May 1934, Railway Air Services operated the Plymouth Roborough Airport, Haldon, Cardiff to Birmingham route. The service ceased in September 1938 after Exeter Airport was opened. They operated the de Havilland Dragon. After the war, they were taken over by the newly formed British European Airways in January 1947. The rather stylish leaflet on the right was inserted in the city's 1936 guidebook. Unfortunately, the airport had not yet opened, and the terminal did not exist.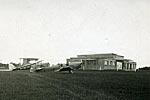 Terminal building 1938
Several small aircraft parked to the side of the main terminal in 1938. When the airport opened for its first flights in 1937, tents were used for the terminals. The purpose built terminal building was opened by Sir Kingsley Wood, Minister of Aviation on 30th July 1938.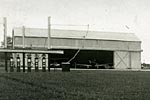 Hangar building 1938
The main hangar and fuel pumps at Exeter Airport in 1938.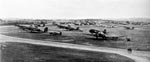 C47As at Exeter airstrip on 5th June 1944
The 440th Troop Carrier Group arrived at Exeter airstrip on 18th April 1944 in preparation for D-day. There was not enough hardstanding for the many aircraft, with many standing on grass. They dropped the 101st Airborne Division to Normandy on 6th June, and continued to ferry supplies to the army. When suitable airstrips had been captured, they brought back injured soldiers from the front to be treated in England. They moved on to Rheims in September 1944, and the RAF returned to Exeter.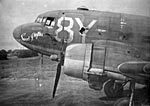 Sweet Phyllis - C47A in 1944 
This C47A Skytrain, affectionately named Sweet Phyllis was assigned to 440th Troop Carrier Group 98 Squadron based at Exeter Airport from the 18th April 1944 until September 1944. The aircraft appears to have some damage, indicating the photo was taken after 6th June.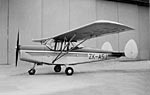 Chrislea Super Ace
Built at Exeter, the first flight was in February 1948 at Exeter Airport. Seventeen were eventually produced. They had an innovative control system that some considered to be dangerous. A later still airworthy Chrislea Skyjeep, can be found at Eggesford Airfield. After her 1hr 20mins test flight at Exeter in the early fifties she ended up in Australia. Photo of a Super Ace courtesy of Ed Coates Collection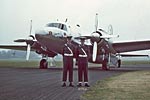 The Queen Mother's Viking 1954
The RAF Vickers Viking C2 of the Queen's Flight that brought Queen Elizabeth, the Queen Mother to Exeter for a visit in 1954. Photo courtesy of Lydia Barnard.
Gliders of the ATC - early 1950's
Exeter Airport was handed over to the Ministry of Civil Aviation in January 1946 , while the RAF finally left in October 1946. The RAF 84 Gliding School continued to train ATC Cadets for many more years at the airport. Here, a flying day for the Gliding School was photographed by Frederick Charles Thompson in the early 1950's.  Photo courtesy of Lydia Barnard.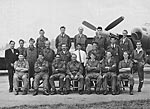 CAACU staff photo 1959 NEW
CAACU was the 3 Civilian Anti-Aircraft Cooperation Unit. Formed in March 1951 for target towing, testing and instrument calibration for the RAF, Army and Navy. The unity operated many famous aircraft types including Spitfires, Mosquitos and Hawker Hunters. In its twenty years existence, the unit flew over 75,000 hours and provided aircraft for use in films such as Reach for the Sky with Kenneth More in 1956 and 633 Squadron in 1964. Former pilot with CAACU Doug Johns, who supplied the photo is second row, third from left.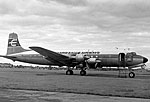 NEW Cunard Eagle Airways DC6 G-APON
In 1962, this aircraft flew from Exeter to Norway to ferry NATO troops taking part in an exercise. Delays caused by fog turned a 36 hour roster for the crew into 120 hours before they returned to Heathrow. Doug Johns, mentioned opposite, and Phil Kelly both trained as Engineers at RAF Halton. Doug in the 61st Entry and Phil in the 76th Entry. Doug subsequently trained as a pilot in th RAF and after leaving CAACU flew as a Captain with Westpoint Aviation based at Exeter. Subsequently he joined British Eagle International Airlines at Heathrow where Phil was already working and both flew on the Bristol Britannia together on a number of occasions. Photo from former Flight Engineer Phil Kelly. See the British Eagle website.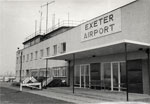 The Airport Terminal 1950
The airport terminal was opened in 1938 – it survived the war and was not replaced until 1998 . Photo courtesy of Terry Dickens.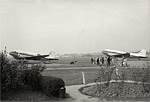 Jersey Airline 'Dakotas'
In 1952, Jersey Airlines (not the original pre-war company) started a service between Exeter and Jersey using a deHavilland Rapide. They took delivery of their first deHavilland Heron in 1954. Here, two Jersey Airline 'Dakotas' are on the tarmac, while passenegers embark on one for their flight.  Photo courtesy of Terry Dickens.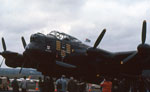 A Lancaster at Exeter 
The City of Lincoln, Lancaster B1 PA 474 has been part of the Battle of Britain Memorial Flight since 1973. Here, she is being inspected by spectators at the airport, during a visit to Exeter Air Day - date unknown. Photo courtesy of Lydia Barnard.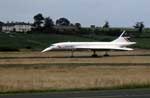 Concorde lands at Exeter
An annual event in the 1990s was the arrival of Concorde for two sub-sonic and one super-sonic flight. The flight plan would take it across the Bay of Biscay. Concorde is shown landing at the airport on one of these occasions - year unknown. Photo courtesy of Lydia Barnard.
Aircraft at Exeter - photos by Alan H Mazonowicz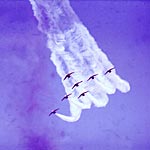 The Red Arrows
A regular visitor to the Exeter Air Day, the Red Arrows perform their high-speed and intricate manouveres over the airport in 1977.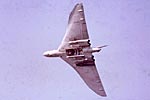 Vulcan V-bomber
The Vulcan V-bomber was also a regular visitor to Exeter. The tannoy would announce the arrival of the aircraft to the expectant crowd. Looking to the east, towards Honiton a spec would appear and gradually grow as the huge aircraft made its' pass. Suddenly the roar of its four Olympus engines would hit the crowd, and children would put their hands to their ears. This fine photograph of the Vulcan in 1977 at Exeter shows the open bomb door.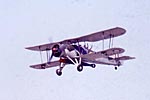 Swordfish
The Fairey Aviation Swordfish may seem old fashoned, ven for the Second War, but it was this model of aircraft, flying from aircaft carriers, that sank the Bismark and destroyed the Italian fleet in the Battle of Taranto. This one was present at the 1977 show, complete with dummy torpedo. Both the 825 Sqn., and 834 Sqn., flying the Swordfish were based at Exeter during 1943, to react to German shipping movements in the Channel.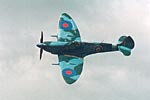 Spitfire
The most famous British World War Two fighter, the Supermarine Spitfire was always a popular aircraft at Exeter. Spitfire squadrons based at Exeter included 66 Sqn., during April 1940,  and 317 Sqn.,between July 1941 and April 1941.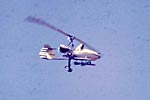 James Bond 'Little Nellie' autogiro
This is the autogiro G-ARZB piloted by Ken Wallis that appeared in the 1977 James Bond film You Only Live Twice. It was a small one-seater autogiro, just 3 metres in length, a weight of 114 kilos with a top speed of 160 km/h. It's maximum altitude was 18,000 feet. It was a popular addition to many airshows at the time and appeared again at Exeter in 1979.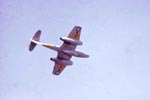 Gloster Meteor
This was Britain's firrst operational jet fighter, using the Frank Whittle designed jet engine. The first Meteors to be deployed at Exeter were with 222 Sqn., in 1946. It was one of their Exeter based aircraft that became the first jet aircraft to crash from Exeter, at Powderham on 1st July 1946. This example, WF391 crashed in 1988, killing both pilots.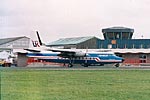 AirUK F27
Once a common site at Exeter Airport, this AirUK Fokker Friendship F27 is standing in front of the new control tower, which was built in 1981.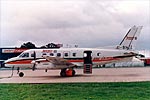 Jersey European - Bandeirante
Manufactured in 1980, this Brazilian Bandeirante in Jersey European colours is waiting for its next passengers. It was a regular visitor to Exeter in the 1980s.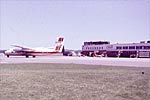 Handley Page Dart Herald
In the livery of British Island Airways, this Dart Herald is taxiing next to th old terminal building during the 1977 airshow. British Island Airways were taken over by AirUK in 1980.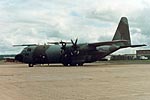 Hercules
An RAF C-130 Hercules built by the Lockheed Corporation on the apron at Exeter.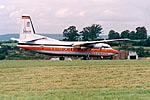 Jersey European F27
Exeter was one of the most important airports for Jersey European. This aircraft was first registered in 1988.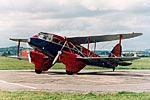 de Havilland Rapide
The de Havilland DH-89 Rapide was one of the first aircraft types to land at Exeter in 1937, operated by Railway Air Services. This one G-ACZE was built in 1934 and is still flying.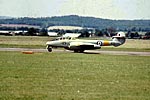 Gloster Meteor
Another photograph of the Gloster Meteor at the 1977 airshow.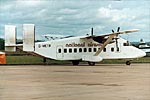 National Airways Short SD3-30
Built by Shorts in Belfast, this 1988 registered aircraft was a common site at Exeter Airport.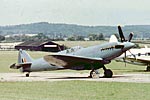 Spitfire
A Spitfire at the 1977 Exeter Air Day.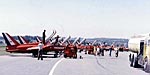 Red Arrows refuelling
The Red Arrows lined up on the tarmac for fuelling during the 1977 Exeter Air Day.
│ Top of Page │