Join the Exeter Memories
Group Page
Trains and boats and planes named 'Exeter'
and the occasional tank, traction engine and Starship.
Page updated 18th May 2018
Back to Transport
These are all the ships, locomotives and aircraft, I have found, named 'Exeter'. If you have a photo of an aircraft (there is a City of Exeter Railway Air Services de Havilland Dragon still to be sourced), locomotive (there is, I believe, a GWR 4-4-0 City of Exeter), ship or other transport vehicle named 'Exeter' and would like to include it on this page, please contact me. With thanks to Richard Holladay for researching and sourcing many of the photos on this page.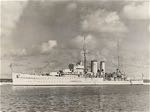 HMS Exeter — launched 1929 New
The much loved York Class HMS Exeter, along with HMS Ajax and HMS Achilles badly damaged the Graf Spee which hid in Montevideo, Uruguay.After 72 hours, the Graf Spee left the port to scuttle herself, thinking there was a large British fleet waiting for her.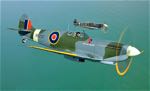 New Spitfire — City of Exeter
The single-seat Spitfire RR232 was named by Mayor Cynthia Thompson on 15 September 2016 at Exeter Airport. This was the 76th Anniversary of the Battle of Britain. The aircraft was built from a single rivet by Exeter-based 'Tool Care Hire' owner Martin Philips. Photo courtesy of Andrew R Annable, was taken while the aircraft was visiting Norway.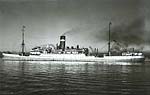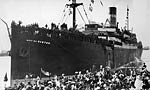 City of Exeter — launched 1914
Ellerman Lines were founded in 1892 by John Reeves Ellerman, Christopher Furness and Henry O'Hagan. Many of the ships were named after cities, including the City of Exeter. She was built by Workman Clark & Co of Belfast and had a gross tonnage of 9,447 tons. Between 1914-15, she was used as a troopship – the photo right, shows her arrival at Freemantle in August 1919, returning Australian troops to their homeland. The City of Exeter survived the Second World War and was scrapped in 1950.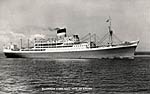 City of Exeter — launched 1953
The second Ellerman Lines 'City of Exeter' was built by Vickers Armstrong and launched on July 7th 1952 and delivered on April 29th 1953 to Ellerman & Bucknall Lines. She had a gross tonnage of 13,343 tons, and could carry 107 passengers and a full cargo on the African routes. In September 1971 she was sold to M A Karageorgis and renamed "Mediterranean Sea". She was broken up in 1998.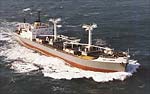 City of Exeter — launched 1974
The last Ellerman Line 'City of Exeter' was built in 1974 by Austin and Pickersgill at Sunderland as P&O's Strathdare and sold to Ellerman in 1975. In 1980, she was sold and became the Phoevos. Ellerman Lines ceased to exist in 2002.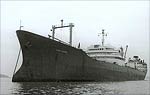 ESSO Exeter — launched 1955
Built by Vickers Armstrong, the 'ESSO Exeter' was launched on 5th January 1955 – she had a gross tonnage of 17,544 tons. She was sold in 1968 and renamed 'Good Hope'.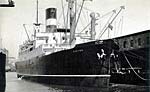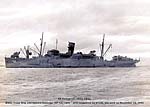 SS Exeter I — 1931
The American Export Lines ordered four new liners from the New York Shipbuilding Company, New Jersey, in 1929 with the last ship to be completed by 1931 and in service by 1932. The first ship, SS Excalibur was the first-generation of what became known as the "Four Aces." Her sister ships that soon followed her were the SS Excambion (I) in 1931, SS Exochorda (I) 1931, and SS Exeter (I) also in 1931. They were renowned for their luxurious passenger facilities on the New York, Mediterranean run. SS Exeter became the USS Edward Rutledge troop ship in 1941, but was torpedoed and sunk off Casablanca in November 1942, during 'Operation Torch'. Photo, left, by John O'Leary – From the Rich Turnwald collection. See the outside site SSMaritime for more.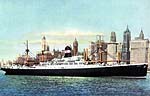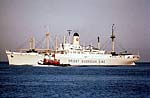 SS Exeter II — 1948
All the pre-war, American Export Lines ships were lost - in 1948 the US Navy sold four of its C-3 class ships to AEL, who rebuilt and refurbished them as luxury passenger-cargo liners of, 9,600 GRT, at 473' long. They could carry 125 first class passengers. The former USS Shelby, built in 1945 by Bethlehem-Sparrows Point Shipyards, became SS Exeter (II). In 1948 she commenced service as one of the new "Four Aces". In the early 1960s, AEL discontinued several routes to the Mediterranean due to competition from the airlines. The SS Exeter (II) was sold on 24 September 1965 to the Orient Overseas Line, becoming the Oriental Pearl. She was scrapped in 1974. Photos courtesy of SSMaritime.
Inland waterways tug 'Exeter'
This inland waterway tug, named 'Exeter' is operated by Alan Oliver Workboats on civil engineering projects. They undertake safety work, piling and dredging along the waterways on northern England. Photo courtesy of AlanOliverWorkboats.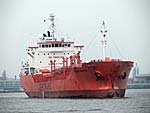 'Trans Exeter'
an oil and chemical tanker, 'Trans Exeter' is registered in Bergen, Norway with Seatrans. With a gross tonnage of 5595, she is 118 metres long. Photo courtesy of Fritz Olinga.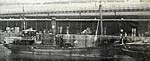 Trawler 'Exeter' and 'HMT Exeter'
Built in 1897 by Jackie and Thomson at their Govan Yard, she was named 'Exeter'. Registered at Grimsby as GY426, she was a coal burning, yawl rigged, steel side trawler of 165 gross tons and 120 ft in length. In 1917 she was requisitioned into the Fishery Service as 'HMT Exeter', and released back into civilian use in 1919. She was sunk 5 miles south of the Bally cotton Light Vessel, off Ireland after being bombed by German aircraft on the 29th March 1941. Photo originally in the Western Times and courtesy of Barry Johnson.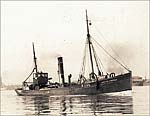 Trawler H256 'City of Exeter'
Built as the City of Exeter (H.256) for George W. Bowman, Hull in 1894. She was sold on 9th April 1912 and renamed Lord Collingwood (BH.96). On 22nd February 1917 she was sunk by a U-boat along with the trawler Frolic when fishing a ¼ nautical mile east of Longstone Light (outer Farne Island). The Frolic crew were picked up from their small boat the following day while the crew of the Lord Collingwood endured 6 days 11 hours in the open boat in the depth of winter. They were picked up by a steamer and landed in Aberdeen on 1st March 1917. One crew member died in hospital. Photo Wrecksite.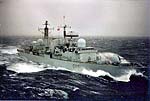 Type 42 Destroyer 'HMS Exeter'
Built by Swan Hunter Shipbuilders Limited, HMS Exeter's keel was laid down at Neptune Yard, Wallsend on 22 July 1976. She was launched by Lady Joan Mulley on 25 April 1978, and commissioned on 19 September 1980. She was awarded the sixth Battle Honour for her name during the Falklands Conflict of 1982, where she was credited with shooting down four Argentine aircraft. Taken out of service in 2009, after 29 years of active service, she was the sixth Royal Navy vessel to be named Exeter - her predecessor, the York Class Cruiser, was a key vessel in the sinking of the Graf Spee in 1939. See HMS Exeter. Photo courtesy of Mark Nugent.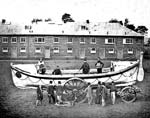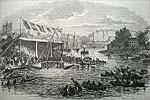 'City of Exeter' Lifeboat
In January 1866 a storm swept over Torbay resulting in the loss of 60 ships and a hundred lives. As a result of the tragedy the City of Exeter paid for a new lifeboat, which was stationed at Brixham. Her public launch in 1866, from Shilhay, was documented in the Illustrated London News, illustration right. The report states that she was deliberately capsized to ensure she could right herself. She was withdrawn in 1885, having being launched five times and saving one life. Photo left RNLI Torbay.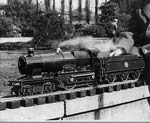 34001 'Exeter', miniature
This miniature engine was built by A W G Tucker. It is pictured on the opening of the 1st Woodsmoor Track 1951. Photo courtesy of Stockport and District SME.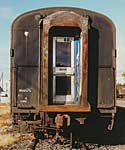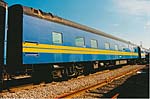 'Exeter' Canadian National Railways carriage
In service on the Royal Hudson Steam train in British Columbia from 1974 to 1999. Exeter was a four section - eight roomette - four bedroom (4-8-4) sleeper built by Pullman Standard for Canadian National in 1954. It was one of 52 identical sleepers delivered as part of a passenger car modernization program by CN in the 1950s. It was transferred to VIA Rail Canada in 1978 and was made surplus when VIA's services were decimated by the Mulroney government in 1990. Photos courtesy of Richard Longpre.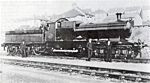 3357 'Exeter'
Built in June 1900, this Bulldog class engine was named Exeter. In March 1902 it was temporarily named Royal Sovereign when it hauled the Royal Train. Rather than reverting back to Exeter, it was renamed Smeaton to prevent confusion, as the City of Exeter had just been brought into service. Withdrawn January 1936.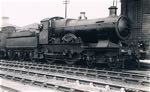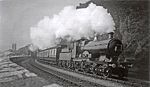 3442 'City of Exeter'
Pictured right, circa 1905, the City of Exeter is photographed coming out of Teignmouth. Built in May 1903 as number 3442. Superheater fitted in October 1911. Was based at Chester in May 1922. The engine was based at Oxford when withdrawn in April 1929. Photo left courtesy of Richard Holladay.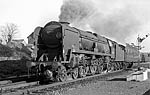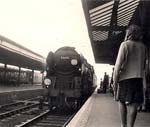 34001 'Exeter'
This West Country class, Bullied Pacific was built at Brighton, to enter service on 21st June 1944. Numbered 21C101, she was named 'Exeter' on 10 July 1945 at Exeter Central Station, by the Mayor, Alderman V Thompson. She ran 1,079,957 miles during her 22 years of service, going through two boilers and three tenders, before withdrawal and scrapping in July 1967. Photo left courtesy of Nigel Kendall - See his site Steamweb. Photo right shows 34001 on 3rd September 1965 at Wareham Station, heading back to Waterloo. Photo courtesy of Stuart Powell.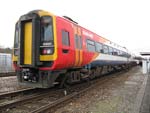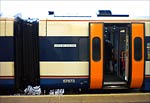 DMU 159001 'City of Exeter'
The 'City of Exeter' was named by Cllr Martin Rich, Mayor of Exeter on 2nd February 1993 to mark the close relationship between South West Trains and the City of Exeter and to seal the modernisation of the Waterloo-Exeter route. It was the first of the Class 159 to be named. Photo right Julia Sharp and left Rob Sandford.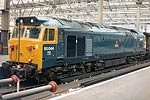 50044 'Exeter' BR livery
Built in November 1968, 54044 worked from Crewe before transferring to Bristol in 1974. She was named 'Exeter', after HMS Exeter, on 26th April 1978 at St David's Station. 50044 worked its last passenger service on 11th December 1990 to be withdrawn at 12.00hrs on 11th January 1990.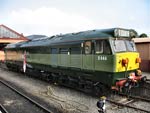 50044 'Exeter' restored
The withdrawn Exeter was sent to Stratford depot in East London for cannibalisation and scrap. Enthusiasts, named the Fifty Fund, were looking to buy a locomotive for spares, purchased 50044 and decided to preserve her. She has recently been working on the Severn Valley line. Photos courtesy of Martin Hart. See his site Class 50.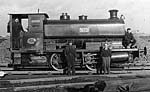 No 9 ICI tank Engine 'Exeter' at William Evans Yard
'Exeter' was a four-coupled saddle tank built by Andrew Barclay of Kilmarnock in 1941 - works number 2103. It was delivered new in July 1941 to the Ministry of Supply site at Salwick near Preston and was named 'Exeter' - it's thought that the name was in honour of HMS Exeter. During 1946 the loco was sold to ICI and went to their Wigg Works, Runcorn. The loco was sold for scrap to the Britannia Scrap Metal Co., Widnes in 1959 but was spotted at William Evans & Co. Timber Yard. Widnes. 1961. Photo courtesy of Bob Darvil, Industrial Railway Society.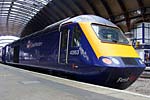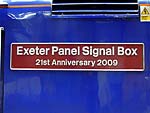 '43163 Exeter Panel Signal Box' HST
The Class 43 Powercar, 43163 'Exeter Panel Signal Box, 21st Anniversary 2009'. She survived the 1997 Southall Crash in West London as the trailing power unit, destroying the front power unit 43173. Six people were killed in the accident. Photo courtesy of Tony Curtis.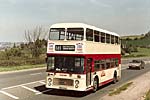 Devon General Service X46 at Peamore
This convertible open top Bristol VRTs originally ran for Western National. The vehicle passed to the Devon General company. VDV 135S, carried the name 'Exeter' (under the windscreen) from June 1987 until 1992. The photo is at Peamore in May 1989, with the X46 service to Torquay. Photo courtesy of Graham Jones.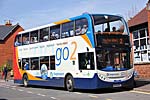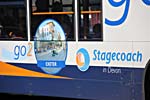 Enviro 400 No 15324 'Exeter'
Dennis Trident Enviro 400, new in June 2008. One of five that were given route branding to relaunch the service (Exeter, Dawlish, Teignmouth, Newton Abbot) with new double deckers. Individual buses were given names and graphics of a particular location served by route 2. Photographed at Exminster on 2nd May 2012, this is the vehicle named 'Exeter'. Photos courtesy of Graham Jones.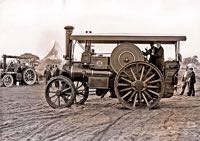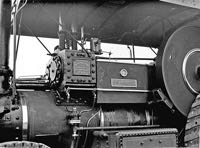 J Hancock's 'City of Exeter' traction engine
This traction engine was built in 1912, by Burrells of Thetford with the works No. 3395, for J Hancock and Sons, for use in their Newtown brickworks, and named 'City of Exeter'. The engine worked until 1925 when it was sold to a Staffordshire company. Jack Sandham, bought the City of Exeter in 1959, and proceeded to restore it, with the help of friends and enthusiasts. After Jack died in 1964, it was sold, repainted from dark red, to green, and renamed 'The Dalesman'. Both photos courtesy of Gill Harwood, daughter of Jack Sandham.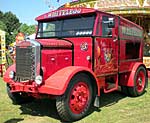 Scammel Show Tractor 'City of Exeter'
Built in September 1948, this Scammel Show tractor named City of Exeter was run by Whitelegg. It generated electricity for the fairground, powering the dodges, merry-go-round and other machinery. Registered as JFJ457 is one of only two to be preserved. It was restored by Robbie Richards of Cornwall. Photo from Graces Guide under the GNU Free Documentation Licence.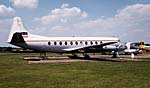 Vickers Viscount G-ALWF 'City of Exeter'
Photographed at Duxford 15 June 1984, before restoration in BEA colours. G-ALWF started life with BEA before being sold to Channel Airways in 1964. On 18th November 1964, she was leased from Channel Airways to British Eagle International Airlines at Speke, Liverpool, England and named 'City of Exeter'.
Returned to Channel Airway on 26th May 1965. For more on this aircraft see Vickers Viscount site. Photo courtesy of Brian Burrage.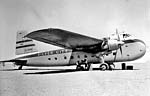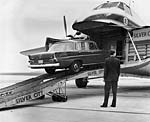 Bristol 170 Mk 21 G-AIME 'City of Exeter'
The aircraft was leased to British Aviation Services from the Bristol Aircraft Company in July 1948. Purchased by Silver City Airways on 21st November 1950. Transferred to British United Air Ferries in 1963. Withdrawn from use at Lydd October 1963. Broken up at Southend in May 1964. The aircraft could carry 2 large cars in the hold and 12 passengers in the rear cabin. Photo courtesy of the SilverCityAssociation. A book entitled 'Silver City Airways' is published by The History Press.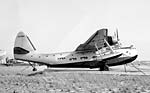 American Export Airlines 'Exeter'
NC 41882, 'Exeter', is one of three Sikorsky flying boats built in 1941 for the American Export Airline. It flew between New York and Foynes Ireland from 1942 to 1944. She had a wingspan of 124 feet, length of about 80 feet and a gross weight of 57,500 pounds. Powered by four Pratt & Whitney Twin-Wasp radial engines she could cruise speed of about 210 miles per hour with a range, of approximately 4,000 miles. AEA ordered three VS-44A's at a cost of $2,100,000. Known as "Flying Aces" they were named Excalibur, Excambian and Exeter. They had individual sofas, full length beds, and dressing rooms, galley service, lounge and smoking room. In 1946, Exeter was sold to Tampico Airlines of Montevideo, Uruguay. Ironically, it crashed on August 15, 1947 while landing in Rio de la Plata off Montevideo, close to the resting place of the Graf Spee. Photo courtesy of Sikorsky Historical Archives.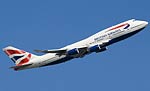 BA 747 G-BNLV 'City of Exeter'
Although no longer named 'City of Exeter', BA 747-436 G-BNLV was once named after the city. When the airline introduced the tail fin with a painted 'arty' design, they were renamed after the artist. After much public derision, including uncomplimentary comments from Margaret Thatcher, a design based on the Union Flag was introduced. The aircraft did not revert to their original names and are now unnamed. Photo courtesy of Tom Lowther.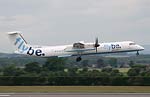 FlyBe 'The Pride of Exeter'
The Dash8-400Q G-JEDU named 'The Pride of Exeter' is often seen at Exeter, as the airport is the head quarters of FlyBe. Here, she is landing at Glasgow Airport. Photo courtesy of Michael Brazier.
Shorts 360 'City of Exeter'
The Short 360, G-EXPS of BAC Express was a frequent visitor to Exeter, as she should have been, with the name 'City of Exeter'. The aircraft ranged far and wide across the United Kingdom as a mail carrier. Photo courtesy of Anthony Hutchings.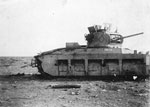 Matilda tank named 'Exeter'
This British Matilda tank was named 'Exeter', in white paint on the side. It was in action against Rommel's forces during the retreat from El Adem, Libya during May and June 1942. It was part of the 5th Battalion Royal Tank Regiment. The photograph was taken by Charlie Tancock, who was born in Cullompton and later lived in Exeter.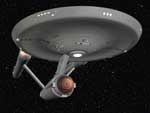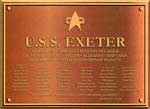 'USS Exeter' Akira-Class Starship
We have all heard of the 'USS Enterprise' as commanded by Captain James T Kirk. Her sister ship, the 'USS Exeter', registered as NCC-26531-B was built at the Aldebaran Ship Yard and launched at Stardate 40712.2138.
│ Top of Page │