Join the Exeter Memories
Group Page
'The King's Beam'
Page updated 11 June 2009
This iron contraption is included in this section, as it is a monument to a past age. It can be found under the canopy of the transit shed on the quay. It was cast in iron in 1838 by Bodley & Co of Commercial Road. The beam was used by customs officers for suspending weighing scales when assessing the duty on imported goods.
It is marked "A and WC BODLEY / IRON FOUNDERS / EXETER 1838"
There is also a King's Beam at Topsham Quay in front of the Lighter Inn, that was a former Custom House.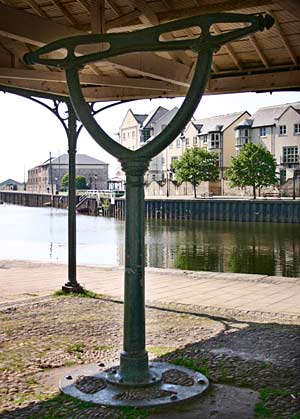 │ Top of Page │