Join the Exeter Memories
Group Page
Matford Livestock Market
Page added 22nd January 2014
Back to Service Industry

Matford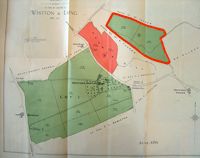 The land on which the Matford Livestock Market sits, along with just about all the land of Marsh Barton, is marked on many early maps as 'liable to floods'. It was good grazing land, but not much use for anything else. In 1893, a to let advert for Matford Barton Farm lists the land as 62 acres of pasture, 71 acres of arable, and 7 acres of orchards and buildings, including the pasture/marshy land to the east of Knowles Hill (marked in pink on the plan). In 1923, the farm was for sale, with the Whitton and Lang sale documents listing the fields on which the present market sit, as Knowle Hill Marshes (ringed in red on the plan). The land was withdrawn, as it did not make the minimum price, but the farm and Knowle Hill were sold to Mr Ash. Two years later he purchased Knowle Hill Marshes for £800. Mr Ash was still the owner in 1949.
In 1991, the Marsh Barton Livestock Market moved to a purpose built facility on the land known as Knowle Hill Marsh, as Marsh Barton Trading Estate expanded southwards. The Matford market is one of the largest in the South West and runs from Monday to Friday. It has extensive livestock pens, both out side, and under cover, and ample parking. There is a small indoor shopping mall to serve the dealers, farmers and auctioneers, with space to also host exhibitions, flea and antique markets and model railway and toy fairs. The site is also used as a very successful Sunday morning car boot sale venue. Special breed shows and sales are held.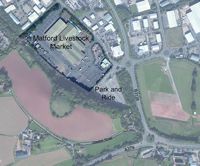 This aerial view shows Matford Livestock Market, on the edge of the Marsh BArton Trading Estate. The easy access from the A379, the old Exeter by-pass has been included.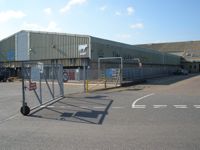 Matford Livestock Market from the main entrance road. © Roger Cornfoot. Creative Commons Licence.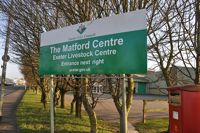 The main signage for Matford. © Lewis Clark. Creative Commons Licence.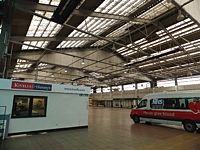 The interior of the Llivestock centre. © David Smith. Creative Commons Licence.
Farmers have to take precautions to prevent the spread of disease.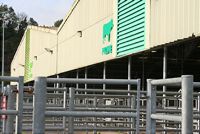 The outside pens, and one of the sheds.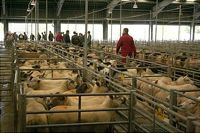 An undercover sheep pen.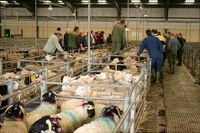 Working down the pens, in the sheep sale.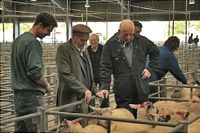 Inspecting a possible purchase.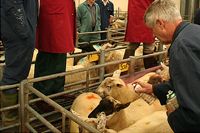 Marking some sheep with a coloured spray.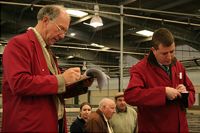 Auctioneers recording a sale in the sheep pen.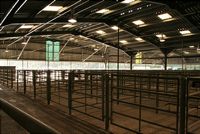 The interior of one of the covered sheds.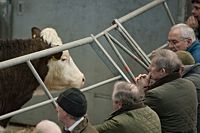 Farmers and buyers view the stock in the ring. Courtesy of Mark Shuttleworth.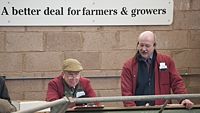 An auctioneer bids up the prices, while his assistant records the price, and buyer. Courtesy of Mark Shuttleworth.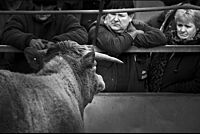 A standoff between beast and buyers. Courtesy of Mark Shuttleworth.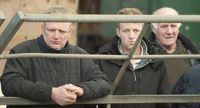 Buyers or sellers? One wants a high price, the other, a low price. Courtesy of Mark Shuttleworth.
│ Top of Page │