Join the Exeter Memories
Group Page
Trucks and lorries from Exeter
Page updated 7th September 2013
Back to Transport
Also see Transports of delight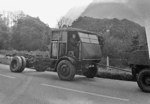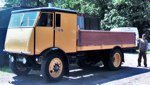 1934 Sentinel S4 Steam Lorry New
JF990 was supplied to Reid & Lee, Sentinel service agents, on the 29th. June 1934 and registered to G.Heywood & Sons Ltd. builders merchants. In 1950 it was taken in part exchange for a diesel lorry by Peamore Garages Ltd. It was then sold to A.J. Roberts of Tresillion, Nr. Truro.The driver was Tom Spike. He worked for Reid and Lee as a fitter and later for Heywoods. Photo left was when it was being taken for scrap, and right, after it was saved and restored by John Griffiths.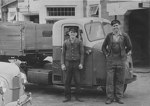 New Scarab Mechanical Horse
This three wheeled Scarab articulated delivery lorry is thought to be delivering beer barrels to the Countess Wear Hotel, about 1947/8. They could still be seen around the city in the 1960s. The driver is Thomas Brown, born in 1902. Photo supplied by Brian Brown, his grandson.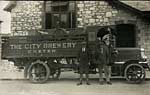 City Brewery lorry
The City Brewery was Exeter's main brewery from the seventeenth century until 1967. This is one of their early delivery lorries dating from after the First World War. In August 1914, the brewery had their steam lorries requisitioned by the army to ferry troops, at mobilisation.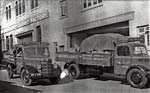 Milford's fruit and vegetable trucks
These two fruit and vegetable delivery trucks are outside the Milford's warehouse in King Street. William Brock's cabinet works are next door, in the old Wesleyan Chapel. Milford's are still trading from Grace Road, Marsh Barton. Photo Aubone Braddon.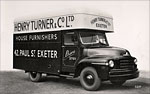 Henry Turner & Co., Ltd.
A van belonging to Henry Turner of 42 Paul Street, which was on the corner of Pancras Lane. The business existed in the 1950s and 60s. Photo Terry Dickens.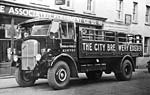 The City Brewery delivery lorry
This is an AEC petrol engined lorry, which in all probability, did about a mile to the gallon. The starting handle, which diesel lorries do not possess, can be seen at the front. Norman and Pring ran the City Brewery located on the Commercial Road next to the old Exe bridge from 1865 when Walter Pring joined John Evomy Norman in partnership. Courtesy of John Hill.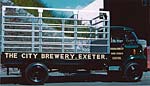 City Brewery delivery lorry
A newly completed delivery lorry for the City Brewery. Courtesy of John Hill.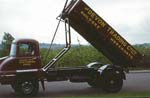 Devon Trading tipping lorry
Also newly deivered from the coachworks, this Devon Trading delivery lorry is demonstarting its tilting body. Courtesy of John Hill.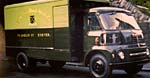 St Anne's Wine and Spirit Co lorry
St Anne's Wine and Spirit Co was a subsidiary of the brewery. Their main retail outlet was Chumleys in Queen Street. They also had bonded storage beneath the museum and in cellars beneath the burnt out Lower Market, until it was rebuilt as St George's Hall (Cornmarket). Courtesy of John Hill.
St Anne's Well Brewery lorry
Another petrol engined lorry, this time, a Leyland. Started as Harding and Richards, St Annes Well Brewery, based beneath the Iron Bridge, was one of Exeter's three prominent breweries. This lorry dates from the 1950s, and they closed in 1966. It is said that many brewery lorries would carry the slogan Beer is Best, followed by the added graffiti, left alone.
Heavitree Brewery delivery lorry
This newly completed Heavitree Brewery delivery lorry would have been a common site in and around the city before the brewery closed in 1970. Courtesy of John Hill.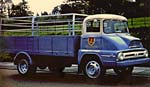 J J Norman Wine and Spirit Merchants
A Ford Thames Trader, this lorry is from another Exeter drinks business that is no longer; they do still exist from premises in Bedfordshire. James John Norman ran the Mount Radford Inn from the 1880s, and became a city councillor. The company claimed in the 1950s, when they were known as Norman JJ and Ellery to have been trading since 1672, through a series of mergers and acquisitions.  Courtesy of John Hill.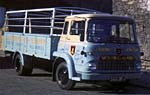 J J Norman Wine Merchant
A later Bedford lorry from J J Norman. They used the building next to the Custom House, now Quayside Crafts, and the right hand, red brick warehouse were bonded stores. Normans sold their own bottled beer with a design of a Norman Soldier on the label. They also bottled Guinness. Courtesy of John Hill.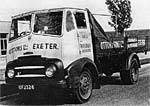 Ottons of Fore Street
Walter Otton and Sons of Fore Street started as an ironmongers, but after the war they became a general builders merchant. They were agents for the Aga and sold bathroom fittings and fireplaces, requiring lorries that could take such heavy goods. This example from their fleet is a Morris Commercial. Courtesy of John Hill.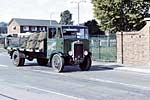 Coal lorry at Marsh Barton
Photographed in Marsh Barton Road, this coal lorry is about to pass the public conveniences by the old cattle market. Taken by Alan H Mazonowicz during the 1970's, it is a service that has all but disappeared with modern, gas-powered central heating systems.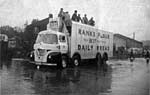 Rank flour lorry in flood at Exwick
West of the Exe has always been prone to flooding, and this flour lorry is being used to ferry workers from the Hill, Palmer and Edwards bakery in Exwick, during one of the frequent floods in the 1960's.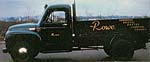 Light truck for Rowe Brothers New
Straight from the coachworks, tis light truck for Rowe Brothers is ready for work. Courtesy of John Hill.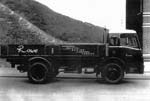 New Rowe Bros at the coachworks
Another new delivery truck straight from the coachworks for Rowe Brothers. Courtesy of John Hill.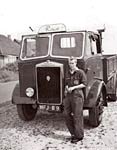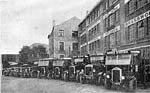 Rowe Brothers
Rowe Brothers started in Waterbeer Street as oil and colour merchants in the 19th century. After the Victoria Hall burnt down in 1919, Rowe Bros built new stores and a showroom on the Queen Street site (bottom left). They expanded across the country and their livery was familiar in many towns. Exeter employed 700, had 22 lorries and 20 drivers in 1960. They were taken over by the Thomas Tilling Group in 1970 to become Graham Reeves. In the 50's and 60's they ran many Albion lorries, one of which is shown right, with its driver John Hill at Weymouth. Courtesy of John Hill.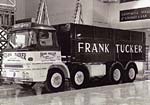 Frank Tucker Commercial Vehicles
Probably the most well known Exeter truck company ever, Frank Tucker trucks can be seen all over the country hauling loads for customers. Photographed at the Earls Court motor show in 1961 or 1962. Reg. no. 600FFJ, had a twin ram tipper, of 24 tons gross weight with a Gardner 150 engine. Jack Newell was the first driver, followed by Derek Castle. Barry Wheeler drove the truck along the south coast, until it was scrapped. The engine was re-bored to a 180 then fitted into another vehicle on the fleet. Courtesy of John Hill.
Westbrick Lorry New
An ERF brick lorry for Westbrick of Polsloe. Courtesy of John Hill.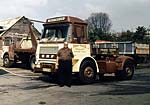 New Frank Tucker Tractor Unit
John Braund, stood in front of his Frank Tucker ERF tractor unit, at the Frank Tucker yard which was located in Heavitree. The lorry had a Gardiner 240 engine. John was a regular driver on the A303 up to London, taking loads to Coca Cola (Brimsdown, North East London), New Containers (Amersham, from Dartmouth), or Westbrick 'Bricks' (from either Pinhoe or Brixton, Plymouth to Woodford, North London). On the return journey, he would always bring back pallets of Tate and Lyle sugar from the factory in Silvertown, East London. Courtesy of Tom Braund.
│ Top of Page │