Transports of delight, or not
100 Years of road vehicles in Exeter
Page updated 2nd November 2011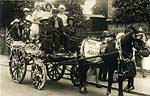 A decorated horse and cart
A decorate horse and cart ready or a local parade - it was raising funds for Exeter hospitals - circa 1905. See the Exeter Cart Horse Parade.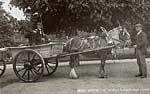 A horse and cart
This well turned out horse and cart was going to process in a parade of carts - 1900's.
A General Buller decorated cart
Decorated with a tableaux of General Buller winning his Victoria Cross in the Zulu Wars. The occasion was probably circa 1905 when his statue was unveiled.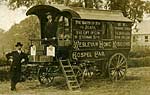 Salvation Army Gospel Car
A horse drawn van that Exeter's Salvation Army used to promote the Gospel.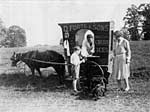 The Forte ice cream cart
This little, pony drawn cart, was used by Angelo Forte during 1926. The Forte family ran an ice cream factory in Preston Street, as well as several cafés and fish and chip restaurants in Exeter and the surrounding towns. See Forte ice cream van below. Courtesy of Ed Forte.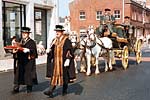 The Mayors Carriage
Still used for ceremonial occasions, the Mayors coach pictured in Queen Street in 1998. The wheels and bearings of the coach were made by Standfield and White. Two Sergeants at Mace precede on foot the coach, carrying the hat of maintenance and Henry VII's sword. Courtesy of Alan H Mazonowicz.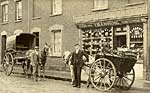 Mannings bread delivery cart
Mannings the baker, of Union Road, St Thomas had these two horse-drawn bread delivery vehicles photographed outside their shop.
Horse-drawn hearse
This horse-drawn hearse was photographed in Exwick Road in the 1990's. Courtesy of Alan H Mazonowicz.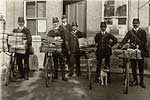 Cycling postmen
Postmen showing off their bicycles before a delivery - VR is engraved on the window, so the photo will date from before 1901.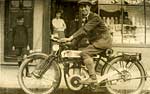 Motorcyclist in Cowick Street
This motor cyclist is pictured outside an unidentified shop in Cowick Street circa 1923. Powered by a proprietary Bradshaw oil cooled engine, with 'bacon slicer' outside flywheel. An unusual machine; a DOT (Devoid of Trouble) 350cc Supersports, registered in Somerset 1923. A few years later, and motorcycle mania hit Exeter when the speedway track at the County Ground opened.
FJ10 in 1904 New
This vehicle is the tenth motor vehicle to be registered in Exeter. Built by the French Company Societe Parisienne which initially made bicycles from 1876 and light car construction between 1898-1901. This is a 1900 Parisienne Victoria Combination, with a Caleche hood and a 2.5 litre De Dion or Aster engines. It belonged to Albert Cannicott, a wealthy Exeter printer. Also see Early Motoring.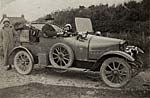 New Percy Bertram in his motorcar
This is Percy Bertram Tucker and his 1913 Calthorpe, thought to have been photographed around about 1915. He worked for the Wilts and Dorset Bank which became Lloyds. It is probably this vehicle that was used as an ambulance car in the First War – see the next photo. Photo Paul Tucker.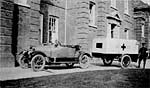 Ambulance trailer and car
Photographed outside the City Hospital, Heavitree during the First World War, this privately owned 1913 Calthorpe towing a Tailby Ambulance Trailer was used to carry wounded soldiers from Queen Street Station to one of five VA Military hospitals in the city. The trailer was designed by E M Tailby of Edgbaston, Birmingham and cost £40. Courtesy Mike Tucker.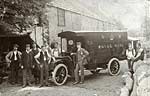 Royal Mail van
This Royal Mail van could be seen on the roads of Exeter and surrounding areas. It was probably sometime between 1910 and 1914.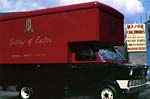 Bobbys of Exeter
This smart maroon and black delivery van had just been completed by the coach fitters, when the photograph was taken. Dating from sometime after August 1965 when the Transit van was introduced and before December 1972, when Bobbys was renamed Debenhams. Courtesy John Hill.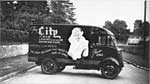 City Laundry Vans
The right hand photograph shows two City Steam Laundry vans from 1934. The company was based at Edgerton Park. Fifteen or so years later, a new van (left) but the phone number remained.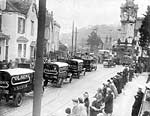 Colson's vans in a parade
These Colsons vans are taking part in a parade heading towards Queen Street from Bury Meadow - circa 1928. Other vehicles taking part in the parade that day included fire engines and Devon General buses.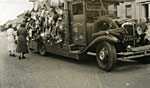 Hardware van
This travelling hardware van, with an Exeter registration number, toured the streets of Exeter selling pots, pans, soap and other household and gardening implements. Probably dates from the early 1930's judging by the license plate.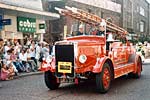 Fire Engine
A Devon registered vintage fire-engine photographed in the 1990's, during a parade down the High Street. Photo by Alan H Mazonowicz.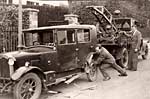 Car crash, Magdalen Road.
A Standfield and White breakdown vehicle attending a Rover after it was hit from the side by a small sports car. Fred Nibbs, who was a mechanic for the garage, and also owner of the car, attempts to free the rear wheel. See Early Motoring by Olive Nibbs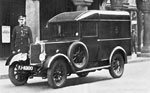 Exeter's first police van
Parked outside the Guildhall, this is Exeter City Police's forst van. Introduced in 1933, it has the registration FJ8300.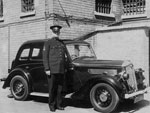 A wartime Wolseley 16 police car
Introduced around about 1938, this Devon registered Wolseley 16 Exeter City police car is parked in Waterbeer Street. PC Arthur Baker poses by the machine, with the registration BOD 886. The vehicle has blackout slits over the headlamps, dating the photo to circa 1940 to 1945.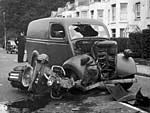 Palmer and Edwards van in accident
This collision between a Palmer and Edwards' Fordson bread van and a US military motorcyclist occurred on 28th August 1944 in the Topsham Road. It is thought that the American motorcyclist was sadly killed in the crash. The van has slits fixed to the headlights for use in the blackout.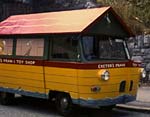 The Exeter Pram and Toy Shop vehicle
This vehicle, produced to promote the Pram and Toy Shop in Sidwell Street was a stalwart of many carnival pageants in Exeter. The Pram and Toy Shop was first opened as Noahs Ark in the Arcade by George Ellis, where they remained until they were destroyed by the May 1942 blitz. They re-opened at 174 Sidwell Street. Courtesy John Hill.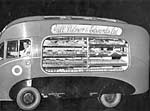 Hill Palmer and Edwards van
This little van plied the streets of Exeter selling bread and other bakery products. The Hill, Palmer and Edwards factory was in Exwick, on the site now occupied by Old Bakery Close.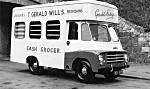 Gerald Wills cash grocer
Nowadays we all go to the supermarkets for our groceries, or have them deliver, after ordering on the internet. Forty or more years back, grocers would deliver groceries to your door after you had left them your order, or required a regular order. This van for Gerald Wills in Exminster had just been completed by the coach builders in Okehampton Place. Courtesy John Hill.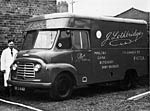 J Lethbridge butchers van
The butchers, J Lethbridge were located in Cowick Street, opposite the present public library. They had traded from the site since the early 20th century. In the sixties they had six vehicles, three of which were Bedford vans and this Commer van.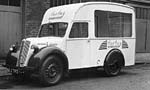 Forte Ice Cream van The Forte family who made ice cream from Preston Street, sold from hand carts, pony and cart, and later, ice cream vans. The van on the right, from the late 1940s had just been completed by the coach works. It toured the estates at Burnt House Lane and Wonford, driven by Uncle Tommy Forte, a larger than life character, a wonderful raconteur who kept you entertained with his stories. The van left was called Big Bill, and was obtained from Skegness. Behind is part of the factory and beyond, the rear of Mermaids Yard. Courtesy Ed Forte left, John Hill right.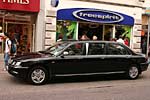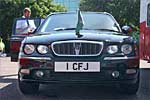 The Mayors car
The Mayor's limousine has the registration number 1 CFJ, which is transferred from one car to another. The city coat of arms is painted on a panel between the windows, on each side.
Classic American car
This classic American car was spotted down at the quay in July 2005.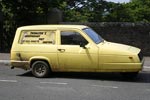 Thomson's Independent Pest Control
Exeter's very own Del Boy and his sidekick Rodney, parked their chariot in Bartholomew Street, just above the Catacombs. If they are anything like the lad's from Peckham, the folk inhabiting the catacombs will be well and truly pestered by the dynamic duo.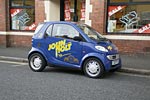 The John Holt Carpets Smart Car
In this age of fuel economy, the staff car for John Holt Carpets should save a few bob. Based in Buller Road, where the photo was taken, this little car pet could have you wilton on a long journey. (I should be writing for the Sun!)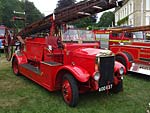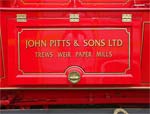 Trews Weir Paper Mill fire appliance
This vehicle dates from 1936 when it was used by the Trews Weir Paper Mill as a fire appliance. Photo courtesy of Auboné Braddon.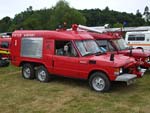 Exeter Airport fire appliance
Snapped by Auboné Braddon, this unusual six wheeled Range Rover has been fitted out as an Exeter Airport fire appliance. On the roof is mounted a foam cannon to smother flames on and around a burning aircraft.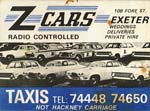 Z-Cars Austin 1800
The TV police show Z-Cars ran from 1962 to 1978. The name was quickly appropriated by a taxi firm in Exeter to get them ahead of the competition. Based in Fore Street, they used Austin 1800s for a time - the ungainly, large brother of the Mini was never as popular as the smaller car. There must be an 1800 appreciation society somewhere, as there is no accounting for taste. Photo courtesy of Auboné Braddon.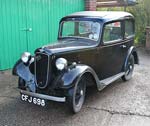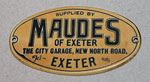 Austin 7 'Ruby' saloon
These two photos were contributed by Quentin Howell. He has owned the Maudes Garage supplied Austin 7 for 23 years. First registered as CFJ698 in 1937 from Maudes New North Road premises, the Austin 7 'Ruby' saloon had spent some time in Dorset during the 1960s. The Maudes dealer plaque was normally attached to the inner roof lining of all the vehicles they supplied. This example was purchased separately from the car. Both photos courtesy of Quentin Howell.
│ Top of Page │